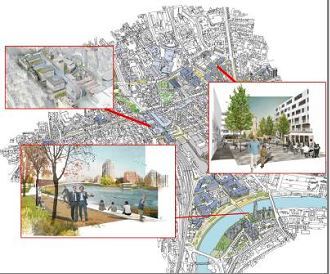 A leading councillor has unveiled plans for the creation of a new residential quarter in the city which will be known as Queen's Square.
Finance convener Willie Young said yesterday that implementing Aberdeen's city centre masterplan was "the most important thing" in preparing for the future.
Mr Young is convinced the local authority's proposal will bring significant benefits after the 20-year project was unanimously backed by councilors on Friday.
And he laid out the full extent of the venture, including the background to the construction of Queen's Square.
Mr Young said: "With this masterplan, we have at last got a vision for the city centre.
"The most important thing is to stop putting obstacles in the way of achieving this.
"We need to take that vision, move it forwards and make it a reality.
"We absolutely have to move on with this plan – it is so important."
Mr Young made his comments after councillors supported the wide-ranging scheme.
The venture, proposed by independent consultants BDP, contains 49 projects, ranging from new housing to lighting up key buildings at night and pedestrianising parts of Union Street.
A major proposal involves the demolition of the police headquarters at Queen Street as part of a transformation of the area into the new Queen's Square.
This includes the refurbishment of Marischal College's eastern annexe and Greyfriars John Knox Church.
There would also be 330 apartments as well as cafes and shops.
The vision for Queen's Square is one of "cafes and shops spilling out on to pedestrian-friendly public streets and public space".
There will also be a strong emphasis on the arts involving the nearby Lemon Tree and Aberdeen Arts Centre.
The brief for Queen's Square said: "Together with Marischal College, the Lemon Tree and the Arts Centre, the proposed mix of uses forms a vibrant urban quarter that is active through the day and into the evening.
"It becomes a pleasant spot for city workers to take time out during the day, for culture vultures to extend their visit to the Lemon Tree or Arts Centre and for residents to enjoy convenient access to the city centre's
employment and leisure opportunities."
It continued: "The council is interested in consolidating public service provision in the vacant eastern annexe of Marischal College.
"[Given] Police Scotland's aspirations to downsize to alternative accommodation, there is potential to redevelop the Town House extension and former Grampian Police headquarters along with other buildings and under-used spaces within the Queen Street area."
Mr Young added: "I think that what we do at Queen's Square will really complement what we are trying to do with Broad Street.
"This development will also bring families and people back into the heart of the city centre."
A decision on whether to pedestrianise Broad Street as part of the masterplan will be made at the full council meeting on Wednesday.
The multi-millionpound initiative also includes plans to pedestrianise parts of Union Street, Schoolhill and Guild Street.
The masterplan states that the "heart of the city will be reinvigorated" through plans to remove cars from the city's main thoroughfare, restricting traffic to bicycles, buses and taxis only.
The project also reveals that removing cars from Guild Street would mean relocating the station taxi rank and drop-off area, creating an opportunity to expand and enhance the station concourse.
According to councillors this, along with the redevelopment of Atholl House, would provide a better gateway and enhanced connections to the Trinity Centre and Union Street.
City masterplan
These are some of the key projects involved in the Aberdeen city centre masterplan.
DENBURN VALLEY
Revitalisation and expansion of the Union Terrace Gardens including outdoor amphitheatre, new soft landscaping and high level bridge linking Belmont Street with Union Terrace.
Redevelopment of Denburn Health Centre, car park and refurbishment of historic Woolmanhill Hospital.
CITY CENTRE
Union Street pedestrianisation of part of Aberdeen's historic main street.
Remodelling of the St. Nicholas Centre and Aberdeen Indoor Market and refurbishment of Mither Kirk.
The transformation of the Queen Street area into a new mixed-use urban quarter.
A contemporary business/retail/leisure feel to the west end of Union Street and the renovation of Golden Square and Bon Accord Square as accessible green spaces.
STATION GATEWAY
A much-enhanced gateway and better pedestrian routes to and from the railway station to radically improve first impressions of Aberdeen.
A new station hotel above the concourse, new Trinity Centre entrance and bridge links and refurbishment of Atholl House as hotel/serviced apartments
CASTLEGATE/CASTLEHILL
The Castlegate will be reinvigorated as Aberdeen's main civic square.
Marischal Court and Virginia Court will be refurbished to enhance the existing community at Castlehill.
Provision of new housing behind the Citadel and enhancement of local open space and community facilities.
NORTH DEE
A significant new office and business quarter will be created at North Dee as well as a new multi-storey carpark.
TORRY WATERFRONT
A new residential community will be built overlooking the River Dee, which will be linked to the city centre by a new pedestrian bridge.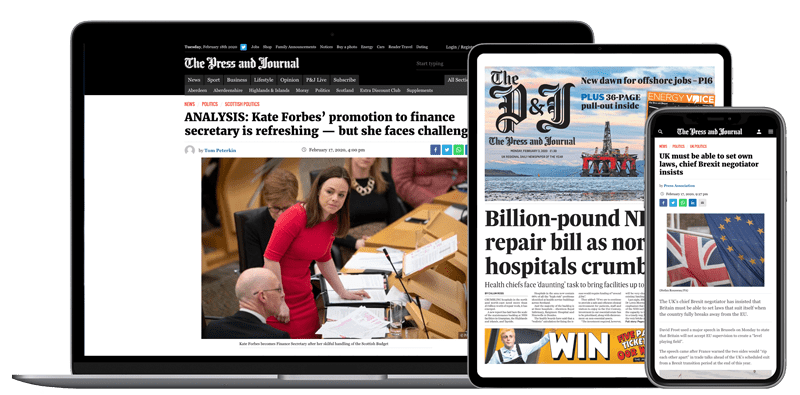 Help support quality local journalism … become a digital subscriber to The Press and Journal
For as little as £5.99 a month you can access all of our content, including Premium articles.
Subscribe