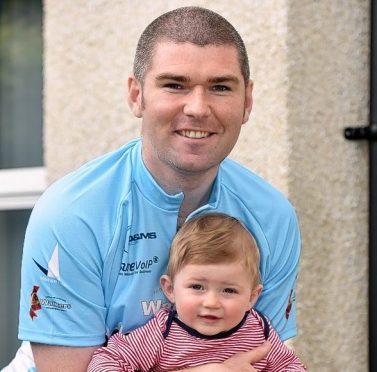 An Aberdeenshire dad is preparing to embark on an epic cycle ride to raise money for the ARCHIE Foundation.
Neil McCoy, from Inverurie, plans to travel 175 miles after his son spent most of the first half of his short life at the Royal Aberdeen Children's Hospital suffering from a debilitating kidney condition.
David McCoy, who will celebrate his first birthday later this month, has been in and out of RACH for treatment for much of the last year.
But he, along with his parents, Victoria and Neil, were helped through this stressful period of their lives by the foundation, who provided free accommodation and round-the-clock support whenever they needed it.
Now, Mr McCoy, 31, aims to take on three gruelling physical challenges, starting off with the 175-mile bike journey Ride the North, to raise funds for the charity that helped his family through so much – and shed some pounds at the same time.
He said: "I thought I'd kill two birds with one stone, I'm needing to lose weight and this cause works as a very good motivator every other morning when I wake up at 4.30am to cycle to Tullos to work.
"Starting off, I'm doing Ride the North at the end of August, and then, about five weeks later, I'm doing the Banchory Beast Race, then, a week after that, the Bennachie Hill Race, so that is three major events within about a six-week period, it's going to be intense.
"My son was born with a kidney default and spent the first six months of his life at Royal Aberdeen Children's Hospital, until doctors eventually found a medicine that worked.
"Last year was a bit of a write-off for me because of his problems, so I couldn't do these challenges like I wanted to.
"So, this year, I thought I would do them and, at the same time, raise cash for the wonderful people at the ARCHIE Foundation.
"When we stayed there, we were new parents, so we were really unsure of what to do, but the ARCHIE staff gave us access to the parent's accommodation and the staff were really excellent at helping us out – my son grew particularly fond of them as well."
To donate to Mr McCoy's fundraiser visit www.justgiving.com/fundraising/Neil-McCoy