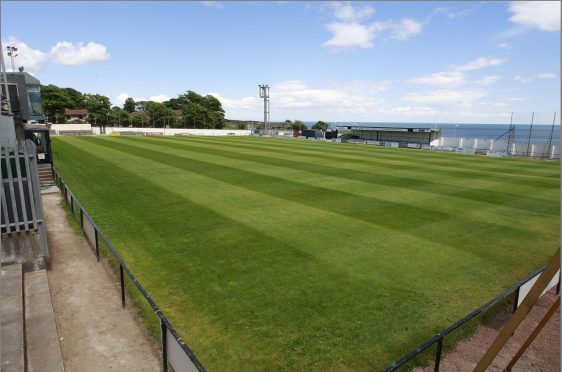 Ambitious plans to transform the long-term home of an Aberdeen football club into a new housing development will be discussed next week.
Allan Park, the historic stadium of 94-year-old Cove Rangers, played host to generations of Highland League players before being sold last year.
Now Barratt Homes North hope to build 48 homes with car parking at the site.
A new stadium, only known as Calder Park, will be located next to a new secondary school, merging Kincorth and Torry Academies.
In a clause made by the city council, the new school will have access to the new stadium's artificial pitch.
Now planning chiefs at the town house have recommended councillors approve proposals for the club's former Loirston Road home subject to conditions.
The designs involve building 31 three-bedroom homes, 17 two-bedroom flats and four affordable houses.
Cove made history as the first amateur side to own their own ground when they purchased Allan Park in 1948.
Since selling the site, they have been playing their home matches at the grounds of the Inverurie Locos, Formartine United, Keith clubs, as well as at the Banks O'Dee.
The report to councillors reads: "The proposal to redevelop the former sports stadium in order to provide a development of 48 residential units, including a proportion of affordable housing, is considered to complement the wider residential area.
"As part of a separate application, the existing stadium would be replaced in an enhanced facility in the wider vicinity.
"As such, the acceptance of a decreased level of affordable housing can be accepted in this instance to assist in the cross provision of the new facility which shall cater for community use, and the associated benefits which arise."
Six "letters of concern" have been submitted to the council by local residents, and Cove and Altens Community Council have also objected.
The group wrote in their letter: "As we understand it, the 48 housing units proposed have only 83 parking spaces and there should be 89.
"This is not acceptable, in a village of narrow roads and on a public bus route and with already limited off-road
parking."
Issues raised included "potential privacy implications to properties to the west", concerns over a potential increase in traffic and possible "obstruction" to the coastal landscape.
Members of the council's planning development management committee will meet on Thursday to make a decision.
Cove Rangers currently play their home matches at the grounds of four other north-east sides, Inverurie Loco, Formartine United, Banks O'Dee, and Keith FC.