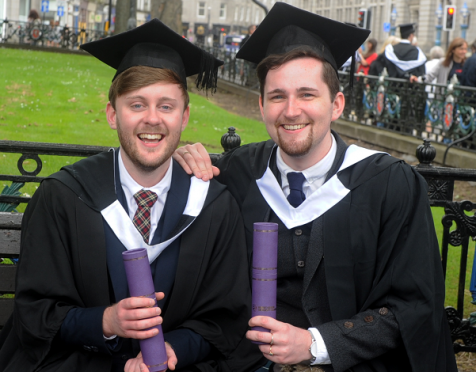 While some of this year's graduates are planning their future careers, one couple who met while studying are planning their wedding.
Dennis Neville and Scott Low met in first year, while studying at RGU's Gray's School of Art.
But it was not until second year that their romance blossomed, and late last year Mr Neville popped the question.
And yesterday the pair had another reason to celebrate, as they watched each other pick up their hard-earned degrees – fashion and textile design for Mr Neville, of Inverness, and communication design for Mr Low, of Stonehaven.
Mr Neville said graduating alongside his fiance was one of the happiest moments of his life.
The 22-year-old said: "Four years of education has provided me with memories which cannot be forgotten.
"Above all, the greatest highlight is finding someone who can deal with all my stress.
"We sort of knew each other in first year, but we soon fell in love in second year.
"It was hard to struggle through university alone, but I was lucky to find my other stresser two years beforehand.
"One of the oddest things about coming to university was the thought of leaving with a degree – if I was lucky – never mind a fiance."
Mr Low, 24, added: "Finding Dennis tops pretty much everything, however over my time at RGU I have learnt a lot of skills that have set me up for the future.
"As a design student the most important thing for me is leaving university with a drive to keep on learning.
"Gray's has provided us all with an excellent platform for the future and that's something I don't want to waste.
"The thing I'm most looking forward to is starting something new with Dennis and seeing where the world takes us.
"We're both very creative and it's exciting to have someone to share the adventure with."
Mr Neville added: "We've got a lot of knowledge behind us now, so we're not sure what we're going to do or where we want to
go, but we're determined to find out what we can offer to the world through our careers and get started."