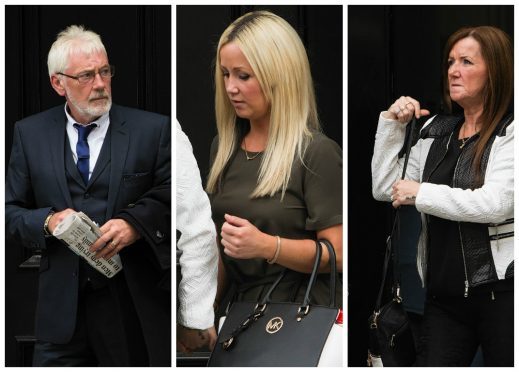 An Inverness dad has described the moment he and his family were stabbed outside a pub after he tried to stop crude comments being made about his daughter.
John Gallagher, his wife Sylvia and daughter Charlie were left with life-threatening injuries after they were repeatedly struck with a knife following a charity event at Aberdeen's Broadsword Bar.
Mr Gallagher was left with a punctured lung and can no longer shut his left eye after the side of his face was sliced open.
Yesterday the 64-year-old from Inverness took to the witness stand at Aberdeen High Court to give evidence against the two men accused of trying to kill the trio.
Matthew Boyle and Kevin Deans are on trial accused of a string of charges, which include attempting to murder the family on August 29 last year.
The pair deny the allegations and Boyle has lodged a special defence of self defence.
Giving evidence on the second day of the trial, Mr Gallagher said the pair "set about him" outside the pub in the city's Tillydrone area as they were waiting for a lift to his daughter's home.
He said Deans had started to provoke the family by making "foul mouthed and filthy" comments about Miss Gallagher.
He said that initially he told the men to calm down and go home.
But he claimed Deans then "pounced" on him and pulled him to the ground.
Mr Gallagher said that soon after Boyle joined in to help his friend until another man broke up the fight.
The court heard that there was a brief scuffle, with Mr Gallagher throwing a few punches, before the duo fled.
But Mr Gallagher said that only minutes later, he saw the pair coming back.
He said: "I dusted myself down and went to get my wife and daughter and someone shouted they've got knives.
"Then I was stabbed in the side. I heard my daughter screaming 'mum's been stabbed'.
"I went to the car park where the voices were coming from and my wife was lying unconscious and I was leaning over her.
"I then noticed a pool of blood on my daughter. I told her to just sit down and talk to mum as I didn't know if she had realised she had been stabbed."
He said he was more concerned about the welfare of his wife and child to be fully aware of what had happened to him.
Mr Gallagher then turned to 42-year-old Boyle in the dock and branded him a coward.
He said the pair ran off shortly after the incident.
Mr Gallagher's wife and daughter also gave evidence yesterday.
Miss Gallagher, 30, said that when the men returned to the pub after the initial scuffle she heard Boyle shouting "I'm going to get you".
All three witnesses said they did not see 40-year-old Deans at the time of the knife attack.
Boyle's counsel, advocate David Moggach, suggested to Miss Gallagher that a big fight had broken out between the men and her family.
He said that during the incident everyone was throwing punches at each other and that it was during this fight that they happened to get stabbed.
Miss Gallagher denied this and said she had only intervened at the beginning to try to pull the pair off her father.
Mrs Gallagher, 55, told the court the incident was "crazy" and that it seemed to be over in minutes.
She said when the pair returned with knives, Boyle initially approached her daughter and pulled her to the ground.
The mother told the court that just as she was about to intervene Miss Gallagher went "dead still" and Boyle jumped to his feet and struck her in the side.
She said that she initially thought she had been punched but when she looked down she realised she had been stabbed as she could see blood.
The court heard she then passed out and could not remember anything until she woke up in hospital.
Mrs Gallagher said that after she was discharged from Aberdeen Royal Infirmary she became extremely ill as congealed blood filled her lungs.
She told the jury that doctors said she would have survived for just days had she not sought immediate treatment.
All three members of the Gallagher family said they had been scarred for life in the disturbance.
The trial, before judge Lord Burns, continues.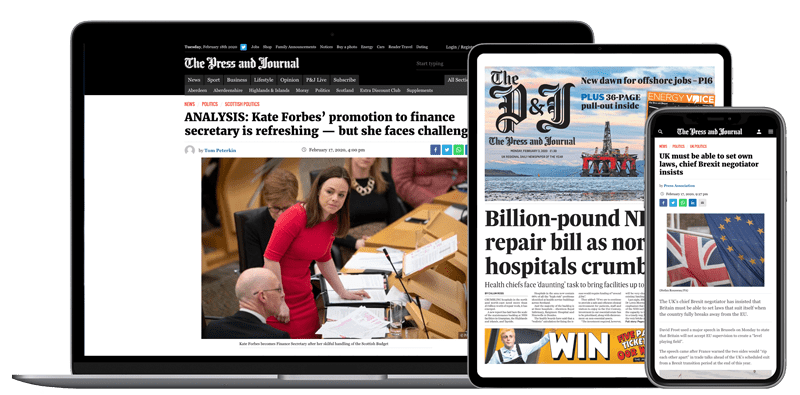 Help support quality local journalism … become a digital subscriber to The Press and Journal
For as little as £5.99 a month you can access all of our content, including Premium articles.
Subscribe