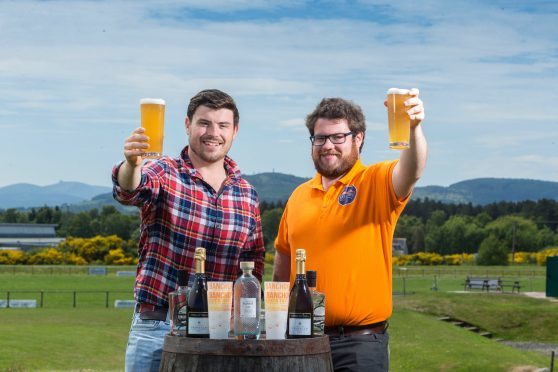 A popular Aberdeenshire festival will become one of the greenest in the country when it starts pouring pints next month.
Revellers at the Banchory Beer Festival will be helping the environment after becoming the first event of its kind to sign up to the Not-for-Landfill campaign.
The brothers behind the north-east extravaganza, Mungo and Guy Finlayson, also organise the Inverurie Beer Festival, which is also going green.
The Not-for-Landfill initiative was kick-started by Aberdeen's One Stop Waste Solutions Ltd and now has 48 businesses on board.
It was launched to reduce the amount of waste going to north-east landfill sites.
The Finlaysons run the festivals through their company, MFGF Events – which has pledged its full support to the cause.
Mungo, co-founder and operations director of MFGF events, said: "We are delighted to be the first events company to pledge our support to the nationwide campaign by reducing recyclable waste at our festivals.
"Over the past three years, we have become more and more aware of our carbon footprint and have always maximised on recycling opportunities where possible.
"We up-cycle a lot of materials, building our own bars with old pallets and potato boxes, and recycle all cardboard, paper, plastic, and cans at the festival already.
"Implementing and joining the Not-for Landfill campaign will ensure that all of our events boast a sustainable approach in becoming much more environmentally friendly.
"This is something we are very passionate about and, by getting involved, we hope to influence and encourage others to follow in our footsteps."
One Stop Waste's Not-for-Landfill campaign manager, Stuart Youngson, said: "Our aim was to create a free green network and resource that would support and promote the good work that organisations are doing to avoid landfill.
"With forward-thinking companies like MFGF Events on board, we aim to achieve our other targets too, such as saving at least 1000 tonnes of waste from going to landfill collectively in the first year."
The event will take place from August 12 to 14, and features live music, local food and the best beers, ales, ciders and rums from across the country.
The final day of the festival, which takes place at the Deeside rugby pitches in Banchory, will be a family friendly day.
Musicians including The Mad Ferret Band, Bella and the Bear, Skipinnish, Sea Bass Kids and Scott Wallace will play the event.
Tickets are now on sale.