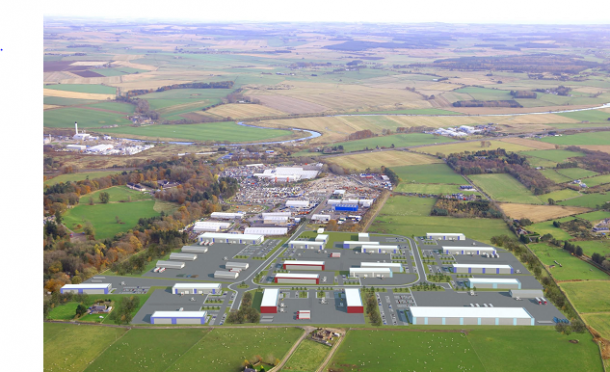 Francesca Marshall
MULTIMILLION-pounds plans to create hundreds of jobs in the heart of Aberdeenshire have been blocked by councillors.
Members of the local authority's Garioch area committee branded ANM Group's proposed expansion of the Thainstone business par "a leap of faith".
And they rejected the ambitious scheme amid fears over its impact on the landscape and the pressure it could put on the local roads network.
Last night, ANM Group said it was "deeply disappointed" by the decision.
Chairman Pat Machray said: "This is obviously not only a setback for us, but for the whole of Inverurie and the north-east agricultural industry.
"A great deal of time and money has already been invested with the long-term intention of boosting the local economy, and this £4million investment was an integral part of our future plans.
"We have been a major employer and contributor to the north-east economy for more than 140 years, and as a farmer-owned co-operative, we have and will continually strive to improve the business to provide the best service for our 5,000 members and 20,000 customers.
"It is our intention to consider our options."
Construction of a long-awaited new abattoir in the north-east had also been dependent on ANM Group securing planning consent for the business park expansion, which was rejected by six votes to four.
West Garioch councillor Sheena Lonchay, said: "The public will always have concerns over transport in the area.
"If we had a plan in place that would help ease congestion in Thainstone I would be more confident in supporting the application, but that is not the case.
"I don't believe we have the assurances in place to go forward and the project is too large to simply take a leap of faith."
Fellow West Garioch member Allison Grant said she was disappointed not to be able to vote in favour of the scheme, but claimed the transport plan was "just too vague" and "a step too far".
The scheme had attracted a number of objections and yesterday's decision was welcomed by residents.
Paul Davidson, said: "The visual impacts of the development are a concern to many people, as well as the impact on road congestion.
"There is no clear plan for how Aberdeenshire Council would deal with increased traffic volumes.
"The plans also fail to mention the visual impact that the development would have on the landscape.
"The developer has repeatedly failed to give pictures demonstrating the visual impact on Bennachie, a site which Kintore Community Council have proposed should be protected."
A petition against the development, launched by local action group Keep the Lower Don Valley Beautiful, also attracted more than 150 signatures.
Councillor Bryan Stuart, who voted in favour of the application, also expressed his disappointment at the decision, claiming the development would have been a "strong contributor to the local economy."