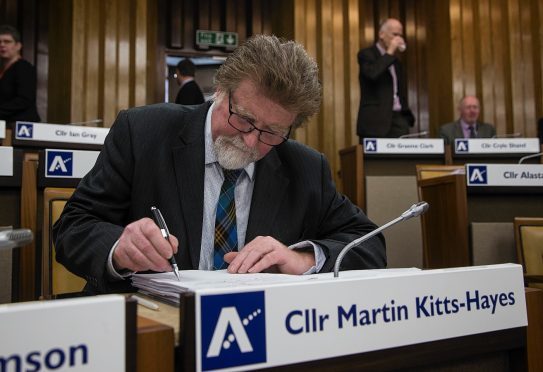 Aberdeenshire Council's embattled leader was subject to fresh criticism last night following his aborted visit to Legoland during an international conference.
In June Co-leader Martin Kitts-Hayes stormed out of a meeting of the North Sea Commission after just two hours.
The Inverurie councillor was angry at being put up in the Billund Legoland holiday village – which he dubbed a "glorified shed".
And he demanded local authority staff find him somewhere else to stay – or book him a flight home. The Progressive Independent Group councillor later tried to cover up the fact he returned early from a conference, leaving council tax payers with a £3,000 bill.
Mr Kitts-Hayes, who was installed as co-leader following an SNP-led coup last year, has since weathered calls to resign, despite criticising a fellow councillor for leaking a confidential report into the circumstances.
And now the Democratic Independent and Green Group (DIGG) councillors Paul Johnston and Martin Ford have spoken out against the co-leader.
Generally the DIGGs support the ruling minority partnership on a confidence and supply basis, however the agreement does not extend to alleged individual incompetence or wrong doing.
Last night Mr Johnston said: "We have given councillor Kitts-Hayes the benefit of the doubt, and not rushed to judgement.
"Councillor Kitts-Hayes has had plenty of time to explain himself and apologise. Instead, he has focused on criticising others.
"His behaviour falls well below the standard which the council should expect from one of its leaders."
And Mr Ford added: "He has had months when he could, for example, have made an appropriate full public apology and offered to repay the council the money he wasted on his travel costs.
"We are disappointed this has not happened.
"Councillor Kitts-Hayes has now made public comment. Not to apologise. Not to express regret for wasting tax-payers' money. But to complain about the cost of the extra full council meeting where his actions will be considered."
Mr Ford branded the remarks "completely out of touch" and "embarrassing".
Mr Kitts-Hayes will likely face a barrage of questions and repeated calls to resign when the full council meets at Woodhill House on Thursday.
The co-leader has said he will not comment again ahead of the meeting although he has previously described the decision to leave Billund as a "poor one".
Last night opposition councillors again called for him to quit.
Councillor Norman Smith said: "I have no doubt that councillor Kitts-Hayes has to resign over his behaviour and frankly the sooner the better."