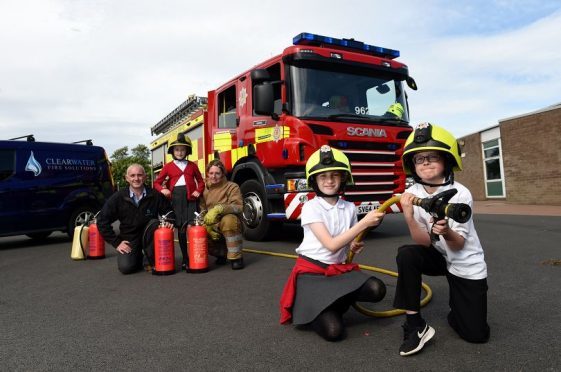 A team of firefighters have visited a north-east school to teach youngsters about the dangers of fire.
About 110 pupils from Balmedie Primary School took part in the fire safety day, where they were taught what to do if a blaze broke out at home.
Clearwater Fire Solutions organised the event, kick-starting the day with a presentation before the firefighters turned up in their engine to carry out live demonstrations in the school's playground.
The youngsters were taught about the importance of fire alarms, extinguishers and about the "fire triangle" – which sets out the three things that cause a blaze.
Operations director for the north-east firm, Lee Morgan, said the day had been a huge success.
He added: "My son is in primary six there in Balmedie. I approached the school and they were excellent, they said it was a fantastic idea.
"It was a great day, the weather was great, it went really well. The teachers loved it and the kids loved it.
"The most important thing is they got a really good appreciation of the importance of fire safety at home – things like fire alarms and knowing what they were, and how to react if you hear a fire alarm going off.
"We told them to shout 'fire, fire, fire' and don't tackle it, leave that to the fire department.
"It was quite intimidating, even thought we are used to multi-million dollar clients in the oil industry. We asked them if they had any questions and every single hand went in the room went up.
"A great day was had by all in the sun and the teachers said that all the pupils thoroughly enjoyed both theory and practical aspects, but the fire engine attendance was what made the day for the school children."
P50 fire extinguishers were used for the demonstrations and the school pupils received certificates of achievement at the end of the event.