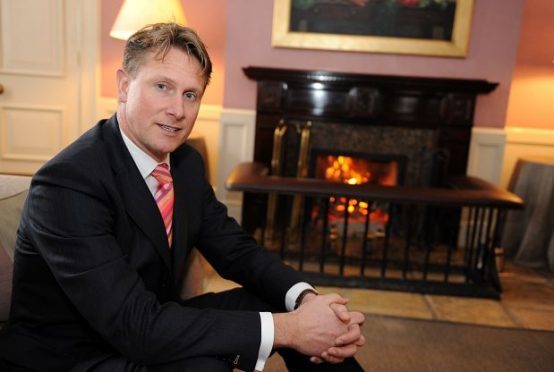 A top oil executive and his wife are offering a reward to help police catch the thieves who stole more than £40,000 of family heirlooms.
Leo and Elisabeth Koot's home in Maryculter was raided at the weekend, with treasured watches and necklaces taken.
Mrs Koot's engagement, wedding and eternity rings were also stolen.
The couple are now offering a "handsome" reward for any information that helps police recover the jewellery – which includes many items that belonged to Mrs Koot's late mother.
The break-in happened between 1pm and 6pm on Sunday, but was only discovered on Tuesday.
Mr Koot – who is well known as the former managing director of TAQA Bratani- and his wife only moved back to the north-east last month, after several years in Abu Dhabi.
Last night, mother-of-one Mrs Koot described it as an "emotional robbery" that left her feeling "destroyed". Many of the items taken had belonged to her mother, who died when she was young.
She said: "We were out in the sun for a few hours to enjoy the beautiful weather. They took my wedding ring, they took my engagement ring, they took my mother's jewellery.
"It was Tuesday morning, I thought 'where is my watch?' Then I just thought 'oh my God, they took all my jewellery'.
"We just moved back less than a month ago, it was all together in a jewellery bag.
"I can't sleep, I have had a headache since we found out. I never thought it would affect me that much. It is not just the worth of it all, it is the emotional robbery."
Mr Koot added: "Abu Dhabi is such a secure place. This place used to be safe. I never felt unsafe here. Something has changed. They took a lot of stuff that was very important to us."
He added the police had some "strong leads" in regards to the culprits, and that anyone with a tip leading to the jewellery being recovered could be rewarded "handsomely".
Police are now appealing for anyone who was in the area to come forward, while urging homeowners to secure their property.
Constable Terry Woods, who is investigating the theft, said: "It was good weather on Sunday and so there would been a lot of people heading in and out of Aberdeen during the afternoon.
"Also there may have been people rafting or fishing on the River Dee who may have information that can assist.
"I would also remind homeowners to ensure that all windows and doors are locked when leaving their property unattended.
"With the current warm weather, although it is tempting to leave a window open when out, it does give thieves a way to get in. To ensure you don't become the victim of crime, lock your property securely."
Anyone with information should call 101 or Crimestoppers on 0800 555 1111.