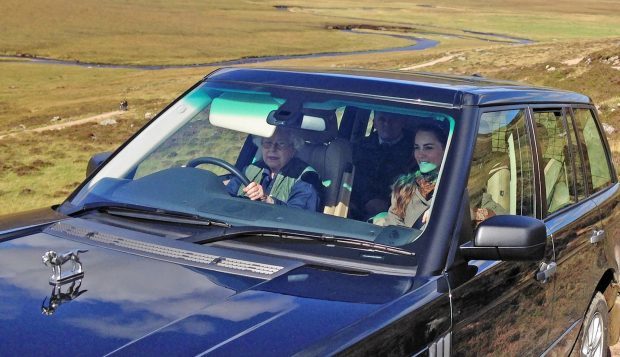 She may be 90, but the Queen showed no signs of taking her foot off the gas at the weekend during a family outing at Balmoral.
Prince William and Kate, known as the Earl and Countess of Strathearn when in Scotland, have been staying in Royal Deeside since Thursday, with their children George and Charlotte.
They have been enjoying the countryside and tranquility at Prince Charles' Birkhall estate.
And as these pictures show, they have also managed to spend some time with the Queen – who was spotted driving Kate into the hills to a grouse shoot above Loch Muick.
The monarch was at the wheel of a dark green Range Rover as she took Kate to a picnic lunch at the spot.
The picture shows for the first time just how close the pair have become in recent years – and how they enjoy each other's company.
A smiling Kate looked relaxed as she sat in the front passenger seat in a light green coat and scarf, with security staff sat in the back.
Meanwhile, Prince William was earlier seen driving a converted Land Rover Defender up the Capel Mounth on the way to Glen Cova.
At the grouse butts behind imposing Creag Bhiorach, dozens of soldiers were waiting to do the beating and drive the grouse towards the waiting guns.
An hour later the hills were alive with the sound of gunfire.
At lunchtime, Special Branch vehicles arrived – closely followed by the Queen and Kate.
Walkers on the public path at Loch Muick were delighted and amazed to see the monarch driving Kate to the grouse moors.
Yesterday, the crowds gathered outside Crathie Kirk were delighted to catch not only a glimpse of the Queen and Duke of Edinburgh arriving for the Sunday service, but also Prince Charles and Camilla. Prince William and Kate were also in attendance, along with the Middletons.
The family holiday will end this week as Prince William has engagements south of the border. The couple are due to jet to Canada for a week-long official trip later this month. They are expected to take George, three, and Charlotte, one, with them.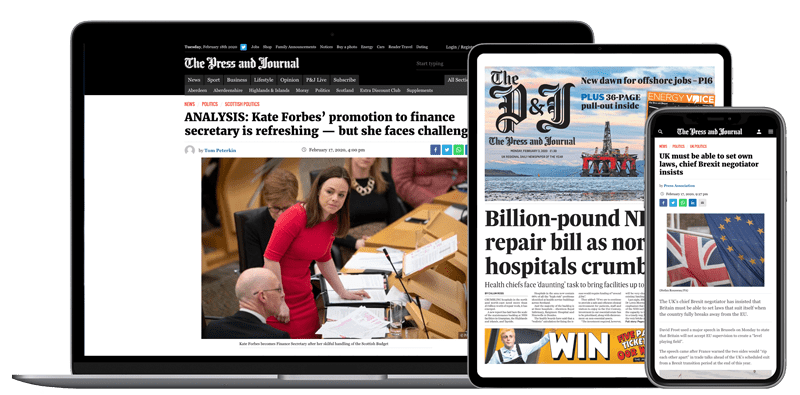 Help support quality local journalism … become a digital subscriber to The Press and Journal
For as little as £5.99 a month you can access all of our content, including Premium articles.
Subscribe