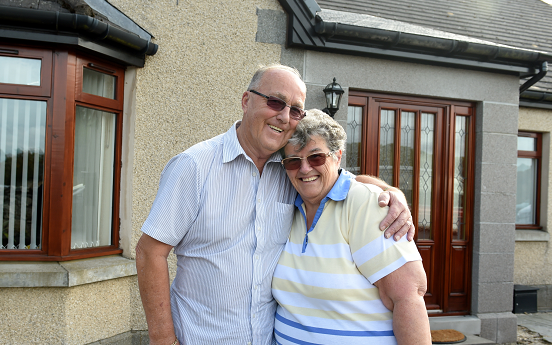 An Aberdeenshire couple, who lost all their belongings in the Storm Frank floods, have described their "surreal" feeling after finally returning home.
Derek MacKay from Port Elphinstone, and his wife Lyn, had all of their possessions destroyed after their Riverside Park home was flooded by three feet of water.
Speaking to the P&J earlier this year, Mr MacKay said they had lost two cars and every possession from their home of 14 years after their home was ripped apart with its foundations exposed and the fireplace was the only remnant of the couple's life before the floods.
But now, after nine months of living in rented accommodation, the 70-year-old and his wife have been able to move back home and get life back to normal.
Mr MacKay added: "Everything from the floor up is brand new, we had nothing to move back into, and the whole year has been such a surreal experience.
"Only now have we both realised how much we have lost, when we look around and none of it was ours before the floods.
"We totally had to start again, and being in this house is great, but it doesn't feel like our home as they don't feel like our belongings.
"We couldn't even save any photographs or birth certificates, it really was everything, and it's been a devastating year, the worst one I have lived through."
Some £2million worth of damage is estimated to have been caused by the torrential floods in Riverside Park alone.
Yet Mr MacKay added that, oblivious to the horror of the floods, it had brought the community back together.
He said: "I wouldn't like to see another year like this one and I wouldn't wish it on my worst enemy.
"Right now, it's only us and another house on the street, out of eight who are back home, it is quiet and it does feel very strange. I don't think it can just go back to normal after what everyone went through.
"But the floods have definitely brought the community closer together and I am looking forward to moving on."