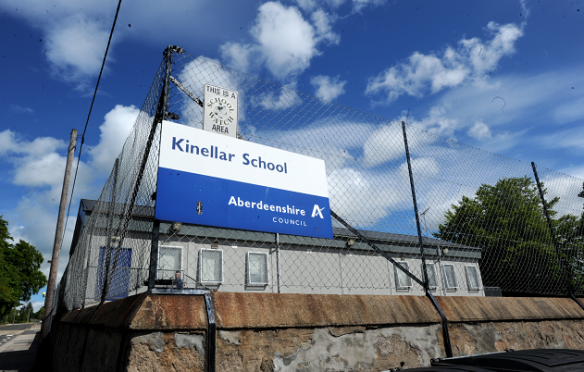 A north-east school that was partially destroyed by a fire on New Year's Day is to be demolished.
Aberdeenshire Council yesterday put out a tender for the demolition of Kinellar Primary in Blackburn whilst councillors continue to discuss plans for a replacement.
The plans to demolish the school were approved in June.
Councillors also backed the proposal for a new £12million building, which will have space for 450 primary and 40 nursery pupils.
During the demolition and construction process, pupils will be bussed to the new Midmill Primary School in Kintore.
However a formal planning application is still to be lodged for the project.
It is expected that the new campus will include a games area and a sensory room for pupils with additional support needs.
East Garioch Councillor Martin Ford said: "The process of reconstructing Kinellar school on the current site is going to be a complex one.
"A great deal of planning is going into the arrangements for the temporary transport of Kinellar pupils to Midmill school and in planning the new building."
Former Kinellar community council treasurer, Sandra Coutts, said: "I think it's a good thing that the demolition will be going ahead as we are desperate for a new school in the area.
"It's a positive step forward and I think it's a case that the council have little choice but to go ahead with the plans."
Brian Johnston, chairman of Kintore Community Council, added: "This is the right move and I don't believe the children's move to Midmill will cause too much disruption.
"Given the condition of Kinellar I think there would have been disruption either way and I am glad the demolition is going ahead sooner rather than later."
The fire which broke out at Kinellar Primary on January destroyed the nursery and primary one classroom.
A replacement school had been on the cards for years, however finding a solid plan for a replacement school has proved difficult after the council were unable to purchase a different site on the edge of Blackburn where they wanted to build its replacement.
Plans for a replacement school are expected to go before the area committee for further discussion.