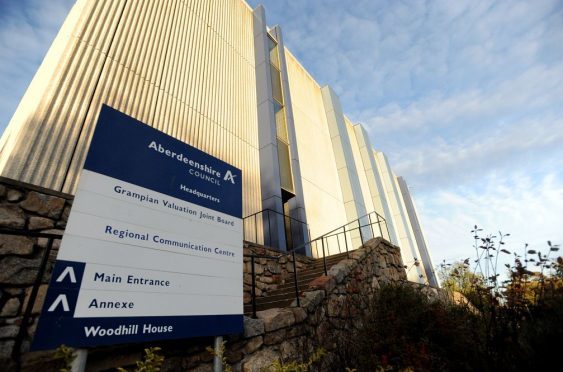 Aberdeenshire Council is set to abandon its civic headquarters at Woodhill House in Aberdeen in favour of a "pivotal" move to Inverurie.
The north-east authority remains the only council in Scotland to be based outside its own boundaries and councillors are determined to right that historic "wrong".
Now council chiefs have revealed they are on the verge of agreeing a relocation to Inverurie – 12 miles away.
Building a modern new headquarters in the heart of Aberdeenshire was a central plank of the SNP-led Partnership's agenda when they seized power last year.
And now, council leader Richard Thomson has stated he is eager to put the issue back on the agenda following a troubled summer.
Last month, Mr Thomson's then fellow co-leader Martin Kitts-Hayes resigned his post in the wake of the Legogate scandal which damaged the council's reputation.
But, last night, Mr Thomson – alongside his new "de facto" co-leader and Labour councillor Alison Evison – insisted the business of shaping the council's future was continuing.
He said: "The policy and resources committee will get a paper in November on the new headquarters and that will be a pivotal moment for councillors to right the wrong of having the HQ outside of the area."
Mr Thomson maintained that the deal – which hinges on building a "strong business case" – would save the taxpayer money and boost the already burgeoning Inverurie economy.
He added: "We're going to carry on with that agenda right up until the May elections."
Property experts declared yesterday that the Woodhill House site in Aberdeen represented an attractive redevelopment proposition.
North-east property consultant Angus MacCuish said: "It's a dated building, it goes back to the local government reorganisation in the 1970s. My bet would be redevelopment.
"It's a fantastic site which immediately joins the hospital, so there would be demand for housing or for retail.
"As Conrad Hilton said – location, location, location."
The 15-acre site includes 170,000sq ft of existing office space, much of which is currently vacant and available for lease from the council.
Aberdeenshire Council's detailed proposals to scrap Woodhill House and develop a site in Inverurie will be made public before November's committee meeting.