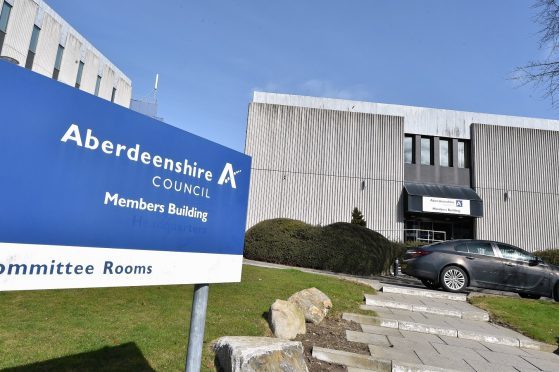 A row broke out in Aberdeenshire Council's chambers yesterday as a new co-leader was elected in the wake of the Legogate scandal.
Labour councillor Alison Evison has been appointed to the top role alongside SNP group leader Richard Thomson.
It came amidst claims from the local authority's opposition, the Aberdeenshire Alliance, that she would be unable to hold the position alongside her senior role as chairwoman of the council's education, learning and leisure committee.
Former co-leader Martin Kitts-Hayes was forced to stand down after leaving the North Sea Commission at Legoland in Denmark because he was unhappy with his accommodation.
Opposition members yesterday also objected to proposed changes to the council's definitions of leader and deputy leader.
Traditionally the roles have been shared between the chair and vice-chair of the council's policy and resources committee.
The proposals were detailed within a report into new appointments within the local authority in the wake of Mr Kitts-Hayes' resignation.
SNP councillor Stephen Smith launched a motion to change the definitions, adding councillors should be "elected regardless of what committee they stand on".
The changes were narrowly backed following a vote, after which a further motion was lodged by the administration for the main leadership role to be shared with a co-leader.
However Lib Dem councillor Peter Argyle said: "I was for seven-and-a-half years chair of the infrastructure services committee (ISC).
"There was no way I could have combined that with another senior role within this council. I certainly couldn't have been leader of the council and head of ISC."
Head of the Alliance and the council's Conservative party, Jim Gifford, submitted an amendment to the proposed change of definitions to keep the "status quo".
He added: "If anything the last 15 months have shown co-leaders don't work.
"The idea that she (Mrs Evison) can adequately meet the massive responsibilities she carries as chair of ELL while also doing half the role of the leader of the council – in itself a massive job – is absurd."
However last night Mrs Evison said: "As co-leader I now have a stronger voice with which to support our school communities in raising attainment, encouraging aspiration and developing the health and well-being of our young people.
"This is not about political expediency, it is about being able to make things happen to benefit residents and communities."
Mr Thomson said: "We have changed this to accommodate what we thought were the concerns of the opposition over this. The status quo is untenable."