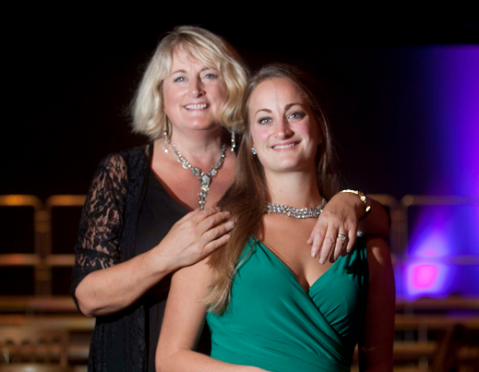 A north-east soprano and her conductor mother who nurtured her musical talent from birth appeared on stage together for the final time this weekend.
The fifth Haddo Arts Festival, which was held at Haddo House on Saturday, played host to Ellon opera star Eleanor Dennis, who took centre stage for the opening concert.
Ms Dennis sung the Mozart Requiem with the Haddo House Choral and Operatic Society, where she fostered her talents.
The show was conducted by her mother, Alice Dennis, in her final appearance as the society's musical director.
Saturday's performance marked her retirement after 26 years in the group – and the last occasion she would work alongside her 29-year-old daughter.
Former Ellon Academy student Ms Dennis is now based in Essex and is touring with the Scottish Opera for her role in an adaptation of Mozart's masterpiece, The Marriage of Figaro.
Her mum, organiser of the Haddo Arts Festival since its inception, said: "It was quite an emotional night for my family, but a thrilling performance.
"Everyone did really well and although it's the last time Ellie and I, and my husband and son will be on the stage together, I'm sure I'll keep playing the piano for Ellie for a long time.
"It was also wonderful to see so many people attend the event and Haddo has a 70-year history of producing classical music.
"I'm now looking forward to sitting as part of the audience to watch Ellie sing in the Scottish Opera at the end of the month."
The 55-year-old added she was delighted at how far the festival had come in the past five years.
She explained: "It is terrific it is well attended, because we have well over 1,000 people coming now which is great considering it is classical music."
The festival's art exhibition, Visions, will feature work from Nienke Attema, Joyce Cairns, Helen Denerley, Sarah Dunton, Winifred Fergus, Paul Ritchie and Gillian Tyler.
Comedian Jenny Chalmers will return to the festival on Thursday night, while a candlelit Chopin piano recital by top Australian pianist, Piers Lane, will take place on the Friday.
The event will end on Saturday, October 8 with The Elixir of Love, as produced by Scottish Opera.