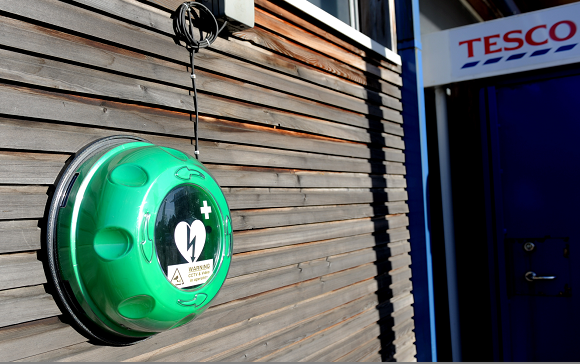 Two defibrillators worth more than £2,000 have been stolen from an Aberdeenshire village.
Residents of Newtonhill are furious that thieves have taken the life-saving equipment from outside Tesco and near the pharmacy on Old Mill Road.
It is believed the public access defibrillators (Pads) were taken between September 26 and October 10.
Police are now looking through CCTV as they hunt for the culprits.
The Scottish Ambulance Service has been informed of the theft, but has confirmed the machines have not been used between the dates in question.
Skea Ross, who organised the fundraising for both Pads, said: "The defibrillators had been in place for two years after me and the community raised funds for them.
"Each one is worth around £1,100 and I just feel furious over what has happened.
"When I found the box empty outside Tesco on Saturday I really couldn't believe it. We originally thought that the defibrillator had been used and was missing, but CCTV proved it had been stolen.
"The second defibrillator outside the pharmacy we think was taken late on Saturday night or early on Sunday morning."
He added: "I'm really annoyed over the whole thing, whoever is responsible has let down the whole community; this equipment could be saving someone's life.
"Their actions are the lowest of the low and I think the whole community is strongly disappointed."
People have also expressed their anger online, with one local resident posting on social media: "I am appalled at this theft. Let us hope that those who stole them will never require a member of their family to require one during a medical emergency."
Constable Marc Camus appealed for anyone with information to come forward, and said: "These are reckless acts of theft that have the potential to cause fatalities through misuse or from the equipment being deprived from the people in the community it is there to serve.
"They have no other material function and I know how much time and effort went into the fundraising to obtain these crucial life-saving devices."
Anyone with information should call 101 or Crimestoppers on 0800 555111.