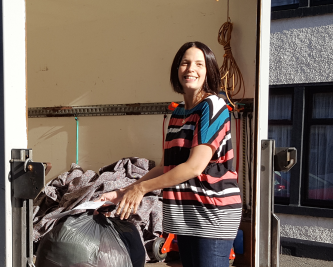 An Aberdeenshire mum has joined forces with a national campaign to collect supplies for displaced refugees.
Debbie Dee, from Huntly, has started a scheme to collect children's sleeping bags and baby carriers, which will be passed on to refugees who need them.
The supplies are being accumulated as part of a wider initiative, called Carriers for Kos, which is gathering the essential items to distribute to families who have become embroiled in the humanitarian crisis.
Mrs Dee said: "As a babywearer myself, it was something that struck a chord in me.
"I couldn't imagine what these families were going through, having to walk for days and weeks, carrying their babies and children in their arms.
"I knew what a huge difference baby carriers would make, so I dug through my collection to see what I could donate.
"Carriers would allow parents arms a rest; little exhausted legs a break; and tiny babies would get some much-needed comfort and security.
"I'm completely overwhelmed by how generous people have been. Some of these baby carriers can cost upwards of £100 and we've got a collection of 13 headed for the warehouse.
"I've also managed to fill 12 black bin liners with winter clothing, blankets and sleeping bags that people have donated. It's incredible."
All the items mustered in Aberdeenshire will be transported to Cheshire before being shipped out to the Greek island. One delivery has already been made and another will take place in December.
Mrs Dee added: "I would also like to thank Cargill removals for taking the collection to England, they were so happy to get involved in the cause and did an excellent job for us."
Rebekah Wershbale, the founder of Carriers for Kos, said: "Our objective is to provide the closeness and security of baby wearing to babies and young children in some very difficult circumstances.
"Grassroots initiatives like ours are crucial in the refugee aid network. Donating a carrier is a tangible way to make a huge difference to a parent or caregiver's life."
If you would like to support the charity or want more information, visit: http://www.carriersforkos.co.uk/ or their crowdfunding page at: http://www.crowdfunder.co.uk/carriers-for-kos-1