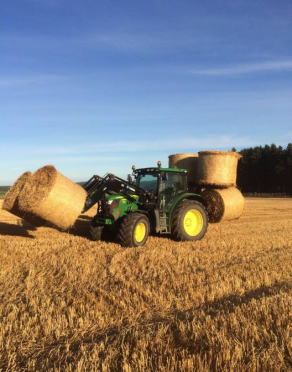 An Aberdeenshire farmer has had his £70,000 tractor stolen in what he has branded a "pre-planned attack".
Matthew Steel discovered his John Deere 6125R tractor had been taken from Wickerinn Farm, near Banchory, when he got up on Monday.
Police believe the machine – which was taken between 9pm on Sunday and 7am on Monday – was loaded onto another vehicle due to its size.
Yesterday, Mr Steel said: "The vehicle that was stolen was around £70,000 worth of equipment which is quite a big hit for us to take.
"We actually just got a new tractor last Tuesday so I don't know if they were trying to access that vehicle, but it's very shocking to have something like this happen to you.
"I've worked on the farm for 32 years and never have we had anything taken. It's a family farm, we've all been here for a long time and this is the first incident of this kind we have had to deal with.
"The whole situation is very annoying and I suppose you never think it will happen to you."
Mr Steel added the tractor would have been a vital piece of equipment through the winter months.
He said: "Not having this piece of machinery is a real hindrance going into winter as it was a loader, and is used to feed the cows through the winter, so the timing really couldn't have been worse.
"This farm is off the road and quite secluded, which makes me feel that it was a pre-planned attack. If you didn't know it was here, the entrance doesn't look like it leads to a lot in the dark."
Last night police appealed for information about the theft, and urged anyone who had seen a suspicious vehicle in the area to get in touch.
Constable Alan Denny said: "The farming community is a tight-knit one and I would ask that anyone who saw anything unusual or suspicious at the time mentioned or in the previous days contact police.
"It is likely that the tractor was loaded onto another vehicle and transported out of the area. Anyone with information is asked to contact police on 101."