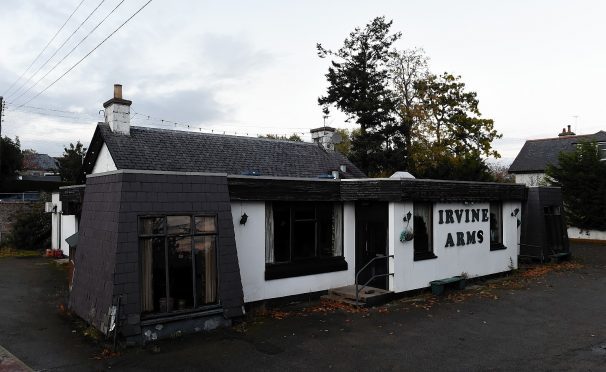 Fresh plans have been lodged to demolish an Aberdeenshire village's only pub and transform it into homes.
Drumoak's Irvine Arms, on the North Deeside Road, closed down last year and has lain empty ever since.
However, Ron Shanks Development Projects Ltd has lodged proposals to demolish the one-time bar and restaurant and convert it into 12 two-bedroom flats.
The news comes after coplanners backed a new bar and restaurant development further down the road, in a field neighbouring the village's Keithmuir area, in March.
The proposals were submitted under the name Irvine Arms and are a renewal of a previous application for demolition and building work, first granted in December 2013.
Speaking last night, chairman of the Crathes, Drumoak and Durris Community Council, David Reaich, said that the loss of the Irvine Arms had been felt in the village.
He added: "There is a desire to do something in the village. I do think the pub is missed a little bit and its poor state doesn't help at the current time.
"It is something that has obviously been approved before and is up for renewal.
"The application didn't come before our last meeting. As regards to the community council itself, we don't really have a position at the moment as we haven't discussed it.
"In terms of the village and the community, it would be good to see a pub, but at the same time there is a significant demand for affordable houses in the area.
"If there was affordable housing (with the development) that would be welcome."
He added: "I think one of the things which is obviously linked is the application for a new pub at the other end of the village.
"I don't know if the demolition of one will finance the other or if there is no connection between the two of them.
"Speaking as a resident, you don't appreciate what you have got until you lose it. Anything that supports the community is positive.
"Crathes, Drumoak and Durris have had some significant developments through in recent years. It is disappointing they continue to put in housing and not amenities to support the community."