An iconic north-east landmark was closed to the public yesterday, while a helicopter operation removed building equipment.
Major repairs have now been completed at Dunnottar Castle after a landslide, precipitated by Storm Frank, destroyed paths at the start of 2016.
The scenes at the attraction were reminiscent of a feature film; a not uncommon occurrence for the Stonehaven landmark, which was used as a dramatic backdrop most recently in the 2015 blockbuster Victor Frankenstein.
Onlookers turned up to watch as the helicopter hoisted away heavy construction materials from the castle grounds.
The property's deputy custodian, Martin Gray, said: "There was a landslide at the back of the drawing room. We had to shore it up, but now the work is completed and so the equipment could be taken away."
The section of path disappeared near the landmark after Storm Frank laid waste to many parts of the north-east during January.
The custodian, Jim Wands previously said: "We were lucky the landslip didn't cause any internal damage, but a path had to be closed as the land had literally fallen away off the cliff.
"We wanted to get some work carried out as soon as possible to secure the future of the castle.
"Because of this, we have gone with more costly repair works, but we believe that they will last much longer."
Site manager for specialist contractors CAN Geotechnical Ltd, Andrew Philips said: "We have completed the works bang on schedule and there were no major issues; we got held up a bit with the weather, but not for long."
A post on social media stated: "Please be advised that Dunnottar Castle will be closed and access to the grounds outside the castle will be unavailable from either the car park or cliff-top path from Stonehaven during the morning of Friday 11th November,
"This is a safety measure in order to facilitate helicopter operations to remove equipment from inside the castle following the successful completion of stabilisation works that have been on-going for the past few weeks at the rear of the Drawing Room."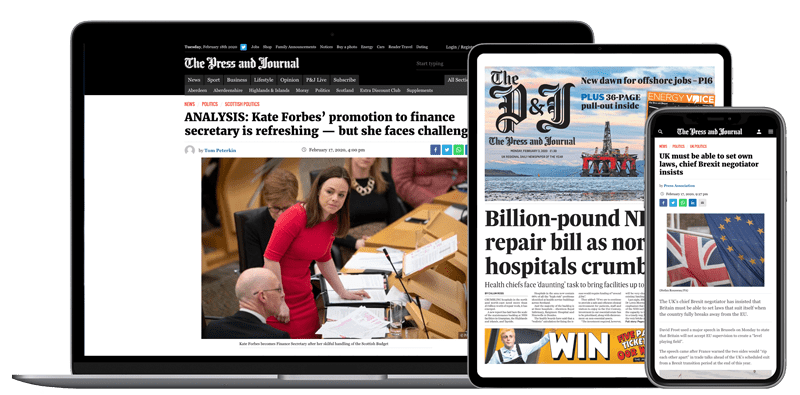 Help support quality local journalism … become a digital subscriber to The Press and Journal
For as little as £5.99 a month you can access all of our content, including Premium articles.
Subscribe