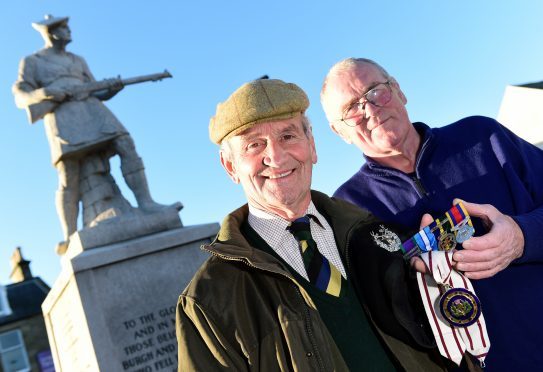 A north-east dignitary has been reunited with his lost medals after another loyal soldier retrieved them from a busy road.
Aberdeenshire Deputy Lieutenant Major Mike Taitt had been officiating at the Ellon Remembrance Day service and had left his medals on the bonnet of his car before driving off.
But one of Major Taitt's dogs, Angus, was being held partly-responsible.
He said: "Angus had been waiting patiently in the car; he always gets a treat when I've been at these official lunches. I had just given him his 'piece' when I closed the door too quickly on his tail and he was howling.
"I quickly put the medals on the bonnet while I saw to the dog and I just got distracted."
A phone round of friends in Ellon sparked a search of the area and an online appeal was also launched, unaware that the medals were already in safe-keeping.
Luckily eagle-eyed Jim Leask, 68, had spotted the medals a short distance down the road.
Mr Leask, a former sergeant major in the Gordon Highlanders, said: "I saw them on the bend on Station Road, just opposite the petrol station, not long after 1pm on Sunday. They were almost in the middle of the road – it was lucky no-one drove over them.
"When I picked up the cap badge, I thought that must be an officer or a senior rank. Then I saw the name on the edge of the Northern Ireland medal, Major Taitt and I knew who it was, I also served Northern Ireland at the same time.
"I rang the police, but they said they didn't have a contact number for Major Taitt, so I rang the British Legion and that's how we got in touch."
Major Taitt said: "I'm very relieved. They are my link to the past and to my time serving alongside the greatest servicemen in the British Army, the Gordon Highlanders, who are very much like a family to me.
"I don't wear them much. I only really wear them when on occasions when I know other people will be wearing medals; like Remembrance Day or sadly, nowadays, when attending funerals of officers and soldiers.
"I hope I have learned my lesson. I would have been up on a charge for this if I was still serving."