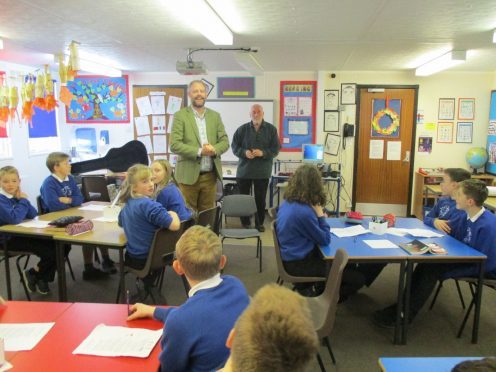 Pupils from a north-east primary school have penned a song to commemorate the 100-year anniversary of a dramatic wartime kidnap.
"The demise of the Bella" tells the story of the six man crew of the Gourdon fishing boat that was off Catterline Bay on September, 25, 1916 when a German U-boat surfaced, kidnapped the fishermen aboard and then sank the Bella. The six Gourdon men were held in a German prisoner-of-war camp until the end of the war in 1918 when they were all safely repatriated.
On hearing of the Mearns centenary project, John Swinney, Education Secretary, wrote a letter to the community stating:
"The story of the Bella and her Kincardineshire crew is a little known part of the rich history of Scotland's contribution to the war effort. I am delighted that the pupils were able to research the details of this story and present their findings at such a high standard. It is good to know that children are learning about their history and heritage."
Dave Ramsay, Project Director of Mearns Heritage Services, organiser of the Centenary Project said: "This is a tremendous endorsement for the hard work of the head teachers, staff and pupils of the schools, the two Community Councils, the Maggie Law Maritime Museum and all the local organisations, individuals and sponsors who contributed so much to the success of the Project."
The letter arrived and was read out to the pupils of Catterline school, on the very day that the school was about to record a song they had written about the demise of the Bella, as another extension of the Bella project.
The recording was completed yesterday in session with the pupils led by Neil McLennan.
Neil McLennan former President of the Scottish Association of History Teachers and History Scotland editorial board member said:
"It was great to see the excellent work of the students at Catterline. Working with local historian Dave Ramsay the students have brought local history alive and to the attention of history enthusiasts across the country in a meaning, engaging and enjoyable way."
More information on The Bella can be found at www.maggielaw.co.uk