It was the morning of December 30, 2015 and someone was banging on the front door of David MacNeill's Ballater home.
It was a police officer. "Out", he was told, "That's not a request, that's an order. Pack a small bag and get out".
Emergency responders across the village were dishing out similar wake-up calls across the village, and the reason why was obvious.
Non-stop rain landing on already wet ground, coupled with melting snow in the mountains, had caused the River Dee to surge and burst its banks at the Ballater Golf Club.
Its waters had began spilling out into the streets, into garages, sheds and livings rooms, and residents were being shipped out to local safe havens.
In no time at all, much of Ballater lay submerged in 4ft of water with the Dee flooding half of Bridge Street.
In the village alone 307 homes and 60 businesses are estimated to have been hit by the Storm Frank deluge.
However Aberdeenshire's suffering did not end in Deeside.
On January 7, the rivers Don and Ythan followed suit hitting 130 homes and 16 businesses in Inverurie, Port Elphinstone and Kintore; and a further 64 homes and three businesses. in Ellon.
Across the region, there was barely a town or village not affected by Storm Frank in some form.
More recently, experts labelled the 2015-16 winter flooding as the most extreme on UK records, with December said to be the wettest and the warmest the country has ever seen.
For Mr MacNeill, while Ballater begins to look more like its old self, the struggle to get his life back to normality continues.
The 71-year-old was one of a number of villagers insured by Integra whose policy was voided due to the property being within 1,312ft (400m) of the River Dee.
As a result, the former electrician was forced to knuckle down and begin working to rebuild his property himself. He has only recently reached an agreement with Integra.
"At this point in your life you expect to relax a bit. This year I haven't, I have had to work like a madman," he said.
"I learned a lot of new trades and people rallied around. It is something that is going to be with me for the rest of my life. People ask me how are you doing, I say I am above ground and I am breathing.
"The house is looking better, put it that way, I have still got bits and pieces to do.
"But if that set of circumstances were to happen again we'd be back to square one."
Down the road, Ballater farmer Allan Adams, of Eastfield of Monaltrie, said "99%" of his property was "back in action".
"Things are back to normal, but flooding is almost in the back of your mind every time you put something back in a shed," he added.
Mr Adams spent "ages" getting his holdings up to scratch following Storm Frank, with £10,000 spend on fencing alone, £15,000 of equipment hit and 150 hay bales ruined.
He said: "It was a lot of work, but we are further on this year than I thought I would be a year ago. When it happened I thought it was a disaster."
A huge clear-up operation was mounted after the river submerged his home and much of his land and sheds, with the remnants of roughly 25 caravans washing up on his fields. There is still some debris left to clear.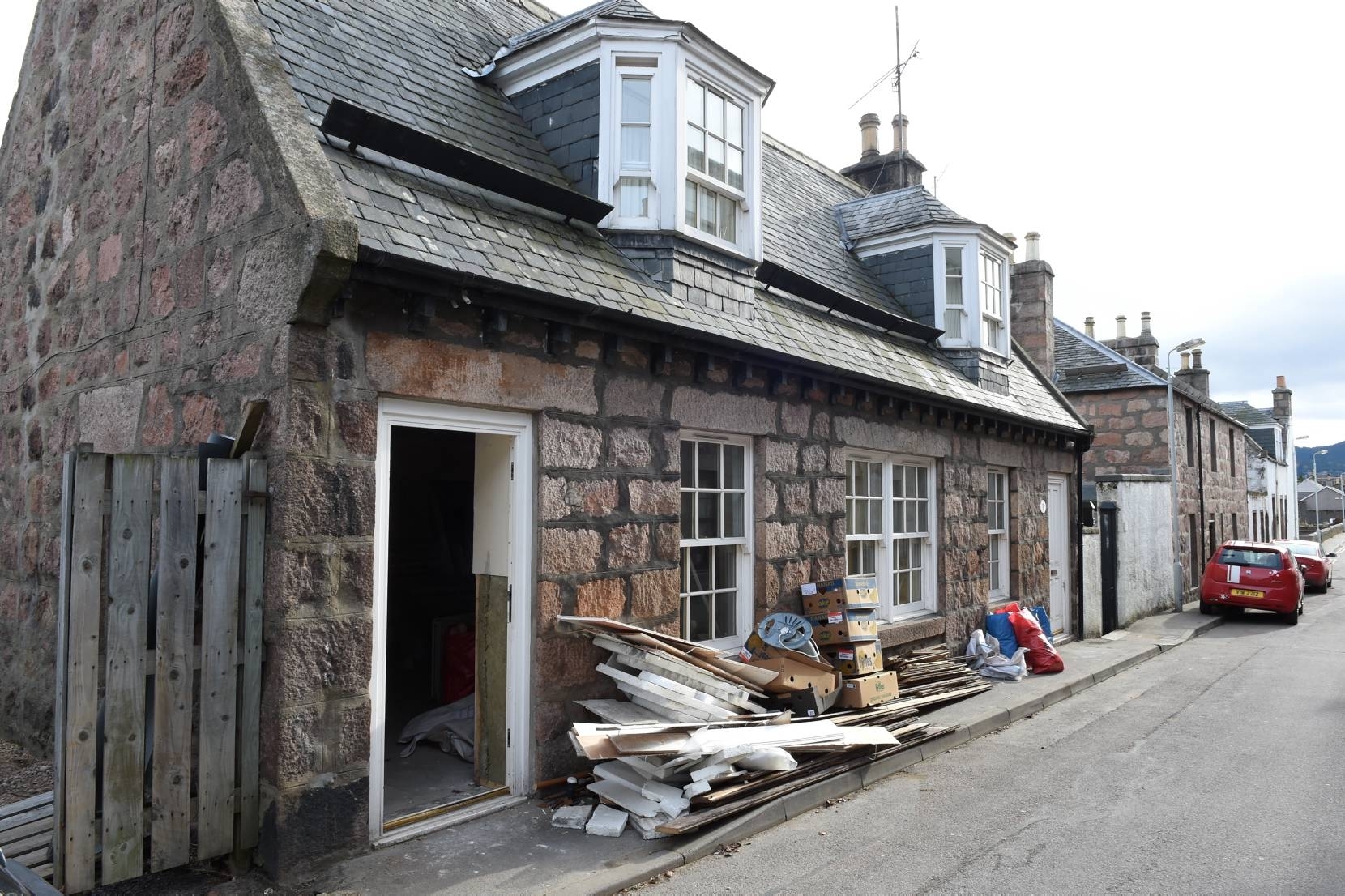 The father-of-three also fears the "new path" the Dee cut during Storm Frank comes too close to his sheds, and is hoping action can be taken to shore up the riverbank near the Ballater sewage works to further protect the farm.
"I am convinced a normal flood is going to hit us, we get routine floods every couple of years, it is those that worry me," Mr Adams added.
Earlier this year the Ballater Flood Group called on Aberdeenshire Council to consider redesigning the bund which was overtopped at the village golf club during the floods.
Work is now under way on a 130ft like-for-like replacement of the defence.
A webcam, funded by the local authority and operated by Farson Digital Watercams, has also been put in place at Ballater's Royal Bridge to monitor water levels.
Co-ordinator of the Ballater Flood Group, Tony Cox, said the studies carried out by the group showed the problem had started further upstream by the collapse of the Red Brae embankment.
He argued no action had been taken to give Ballater residents peace of mind since the floods.
He said: "When talking to the average person in Ballater what they are asking is, how safe are we? Could this happen again? What has been done to stop this happening again?
"An awful lot of people in Ballater are really living in fear of what could happen, but hopefully won't happen of course.
"To have all that (the factors which led to the floods) happen again in some way, I think the risk is very low. The flood group thinks the risk is almost non-existent.
"But that doesn't take away the fear the folk living near the river have, every time it rains people are standing on the bridge.
"This was an exceptional event. It has to be viewed as that. We should not be living in fear of a repetition."