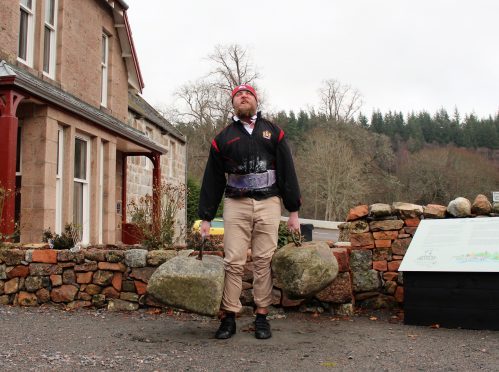 More than 150 years ago, Deeside athlete Donald Dinnie summoned all his strength and crossed the Potarch Bridge with two massive stones weighing 770lbs.
It was a feat that passed into local lore, inspiring a string of strongmen to recreate the Birse man's storied accomplishment.
One man has now travelled across the world to lift the "Dinnie Steens", fulfilling a life-long ambition.
Joining the elite heavy-club was Pete Seddon, a Scot who now lives in Australia.
He said: "I have known about the stones for a number of years.
"I was really keen to come back on my holidays and have a good go at these stones today."
Overseeing the huge lift was official assessor Brett Nicol who ensures that the athlete "puts some wind beneath the stone" – a feat he has carried out himself every year since 2010 at the Aboyne Games.
The stones have recently been returned to the Potarch Lodge after its redevelopment and are a now tourist draw for the Ballogie Estate.
Estate Manager Helen Knowles said: "It's great to see the stones of strength back at Potarch and we welcome anyone to come and try to lift them – but only if they pass the new guidelines. "Mr Seddon told us that it had been his life-long ambition to try, plus he is a weight-lifter, so he met our criteria to attempt.
"He managed a perfect lift on his first attempt and was ecstatic."
Two more strongmen will attempt lifts today at 11:30am and 12:00pm – Andrew Cairney and John Pollock.
The stones are taken to the Aboyne Highland Games every year, where visitors can have a go at lifting them.
One woman, Jan Todd, lifted them in 1979 and is the only woman ever to have done so.
Ballogie Estates are hoping to hold a 'lift and carry' event of the stones this year, where competitors would carry the weight over the Potarch Bridge, recreating the original accomplishment of Donald Dinnie.
Ms Knowles said: "The Potarch development is the first step in creating a new high quality tourism hub for Royal Deeside and we are confident that the inclusion of the Dinnie Stones will prove exceptionally popular with visitors."