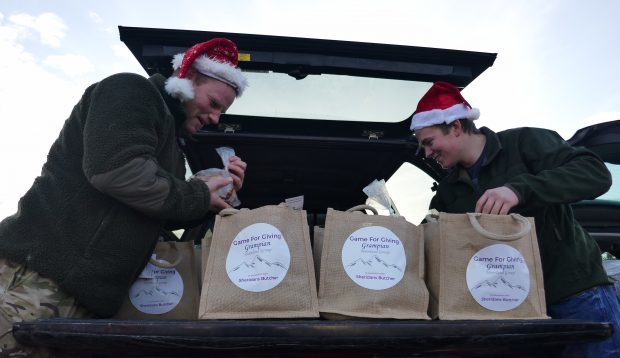 North-east gamekeepers have banded together with three charities to support vulnerable households on Christmas Day.
Grampian estate workers have joined ranks with colleagues in Angus for the Game for Giving partnership to provide 97 families in the area with Christmas dinner.
They are donating lean venison, fresh pheasant, snipe and woodcock from the hills and woods of local estates to support some of the most vulnerable families in the area.
Gamekeepers and stalkers have, for the past week, been outsourcing the game – which will be sent on in parcels to charities in Banchory and further south.
Assisted by local butchers and restaurants, the hampers will also contain vegetables, Christmas crackers and sweeties.
The project is a collaboration between the Grampian Moorland and Angus Glens groups, and charities Home-Start Deeside, Just Play and Christmas Day Community Meal in Montrose.
Hill venison, pheasant and vegetables from the Invercauld and Finzean estates is included in the packages, which was sourced by members of the Scottish Gamekeepers Association.
It will be distributed to families on Christmas Eve through Home-Start having been prepared by Sherdian's Butchers in Ballater.
Lianne MacLennan, co-ordinator of Angus Glens and Grampian Moorland groups, said: "It's been great working with these charities, who do amazing work to help people. Some are doing this all year round, not just Christmas time.
"The food the groups have donated is local and fresh and we hope folk enjoy it. In Angus, extra pheasant breasts with game cooking cards have been put in the parcels as well, to encourage people to try cooking it for themselves, if they wish."