A "psycho" drug dealer has been found guilty of murdering his ex-girlfriend and hacking her into pieces – before dumping the remains in a bin.
Kimberley MacKenzie, who grew up in Huntly, was attacked with a hammer and stabbed repeatedly with a skean dhu dagger.
Ex-boyfriend Steven Jackson then chopped her body into 12 parts in the bath, and, with the help of former lover Michelle Higgins, dumped the remains in four bins in Montrose.
The 40-year-old was yesterday convicted of the mother-of-three's murder after a trial at the High Court in Glasgow.
Higgins, 29, was also accused of murder but the jury found the charge not proven. However, they ruled she was guilty of helping Jackson dismember and dispose of the body parts.
During the trial, the court was shown CCTV footage of Jackson and Higgins walking through Montrose town centre holding hands and window shopping, while Miss MacKenzie lay dying in their living room.
The next day Jackson began sawing up the 37-year-old's body. The parts were bagged up and dumped in bins throughout the town centre.
The couple were later caught on CCTV carrying a child's rucksack and a green suitcase containing more body parts, including Miss MacKenzie's head.
Lady Rae, who described the trial as "one of the most distressing cases" she had dealt with and told the pair: "I have difficulty finding appropriate words to describe these horrific and deprived crimes."
Over the course of the five-week trial, Jackson and Higgins both insisted the other had carried out the crime.
Jackson told his ex-wife that Higgins had hit Miss MacKenzie with a hammer, and that he then slit her throat.
He even admitted that he had become sexually aroused by cutting up the corpse.
But Higgins told the court Jackson launched the attack minutes after Miss MacKenzie dropped by their flat on Market Street, Montrose on October 27 last year.
She claimed that as Miss MacKenzie was chatting to her, Jackson had violently smashed her on the right side of her head with a hammer.
The force of the blow knocked Miss MacKenzie to the ground and as she lay helpless, Jackson stabbed her more than 40 times before bludgeoning her again on the head with the hammer.
The final blow was a violent blow over the head was with a large paint scraper.
As Miss MacKenzie lay dying from massive head injuries, Jackson and Higgins went out to buy heroin.
The following day the pair dragged her body into the bath and butchered it after Higgins went out and bought a saw.
The court also heard that Miss MacKenzie had previously been told not to return to Jackson's flat, as it was alleged Higgins was jealous of her visiting her ex-boyfriend.
However, Higgins told the court she never had any problem with Miss MacKenzie – and denied that she had been "sick fed-up" of women offering her boyfriend sexual favours in exchange for drugs.
Following the convictions yesterday, Detective Superintendent Jim Smith described Jackson and Higgins as "beneath contempt".
"This was a horrific and brutal murder," he said.
"The manner in which they conducted themselves leaves them beneath contempt, and shows a level of depravity which thankfully is extremely rare.
"It's hard to imagine how difficult the last year has been for Kimberley's family and our thoughts are with them. I hope today's conviction brings some measure of comfort."
Lady Rae deferred sentencing for background reports. The pair will next appear at the High Court in Livingston on January 14.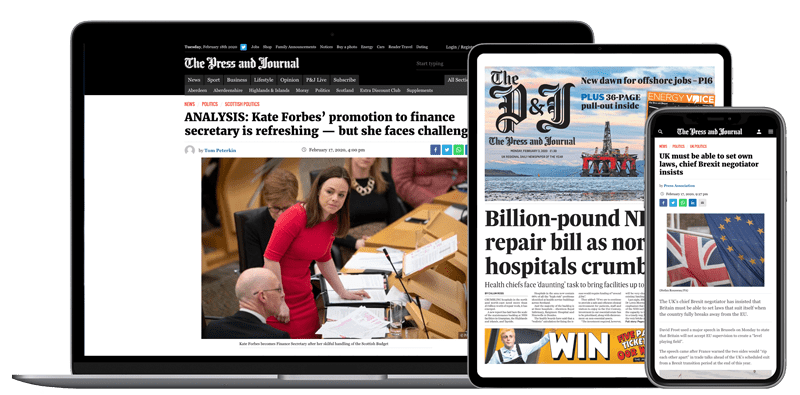 Help support quality local journalism … become a digital subscriber to The Press and Journal
For as little as £5.99 a month you can access all of our content, including Premium articles.
Subscribe