Port Elphinstone was badly hit when the River Don burst its banks on January 7 last year.
Residents got some warning to evacuate and were able to move some belongings to safety, but hundreds of peoples were evacuated and more than a dozen homes were badly flooded.
The river reached its highest level on record, and also destroyed homes in Inverurie, Kintore and Kemnay.
One pensioner yet to return to her property after the floods said it had been a "nightmare" year, with the repairs taking longer than imagined.
She had been planning to put her property on Canal Crescent, Port Elphinstone on the market before the floods and now fears she will not be able to sell it on.
The woman, who had to get an ombudsman involved as she battled with her insurance company over the level of cover she was entitled to, has since bought a flat elsewhere and just wants to put the disaster behind her.
She said: "I fought and fought with the insurance company to get any money. It's been a nightmare. It has taken so long now; I just want it to be finished. I'm lucky that I have somewhere else to go."
Stuart Moffat also had to battle with the insurers, but after eight months he and his wife Jenny, and son Oscar, managed to get back into their Canal Crescent property in September.
Their home was flooded with 3ft of water, and head to be completely gutted and dried out.
But despite their ordeal – and the additional stress of Mr Moffat's parents' home being flooded in Ballater – the family have praised the "blitz spirit" of the local community.
"Whenever we were feeling down or low, we could pop along to the British Legion and meet the support group," Mr Moffat said. "I have been inspired by the kindness of complete strangers. When I look back I just think it was a good thing that it happened here – this community is really special."
The council is currently rebuilding the Davidson Park bund at Port Elphinstone, which gave way when the River Don burst its banks during last winter's deluge. The £110,000 rebuild will return the structure to its original height and protection will be provided against burrowing animals to mitigate the occurrence of this issue in the future.
It came after locals campaigned for the defence to be reinstated to give them peace of mind.
A new scheme aimed at helping those in high-risk flood areas has been set-up for vulnerable communities.
Flood Re has been pulled together by the insurance industry and UK Government to help offer those in flood-prone areas more affordable insurance.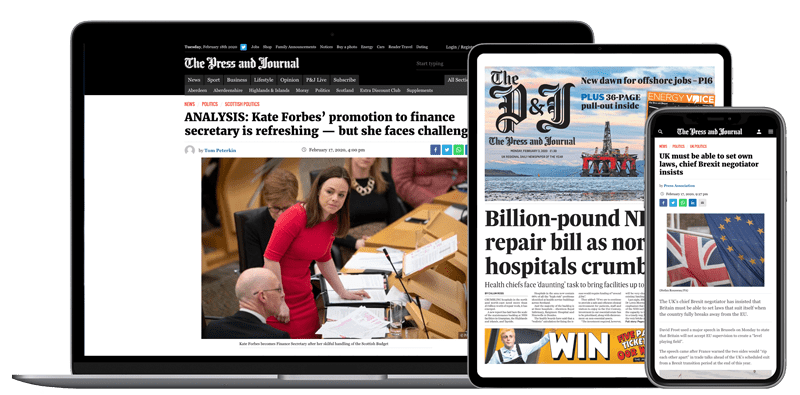 Help support quality local journalism … become a digital subscriber to The Press and Journal
For as little as £5.99 a month you can access all of our content, including Premium articles.
Subscribe