Pop princess Kylie Minogue will celebrate Hogmanay in the north-east – after helping one family end their nightmare 2016 on a high.
The Australian superstar delighted villagers when she stopped off in Ballater yesterday, popping into the shops before watching the local pipe band march down Bridge Street.
Kylie also helped one young mum round off a year of hell with a smile, cuddling up to precious Ethan Vaughan who was born three months early weighing just 2lb 3oz.
The touching scene could not have been more different to last year, when the River Dee raced down the high street in the midst of Storm Frank, sweeping away homes, businesses and even caravans.
For Jade Vaughan – who returned to the village for the first time since her family home was hit by the floods – meeting the pop star made the trip all the more special.
The 27-year-old said: She was absolutely lovely and more than happy to hold Ethan. I just thought it was too good an opportunity to miss, her holding this miracle baby, because he certainly is."
Ethan was born 11 weeks early on August 31, and spent weeks in the intensive care unit at Arrowe Park Hospital in Merseyside before finally being allowed home.
It meant the family were able to introduce the tot to his grandparents Lesley and Eck McCracken, who have spent much of 2016 rebuilding their home after the floods. Little did they know he would also get the chance to meet a global star too.
Mrs Vaughan added: "This has just made our Christmas even more special, especially after the year we have had.
"Seeing my family home getting flooded out and having to spend so much time in hospital with Ethan, we didn't even know if he was going to make it."
The mother-of-two said the I Should Be So Lucky singer had told her she would love a cuddle, and was honoured to be holding the baby – before cooing over his beautiful cheeks.
Staff at Dee Valley Confectioners were also left Spinning Around, after Kylie popped in for some boiled fruit sweets and a bag of soor plooms.
Wendy Anderson, who has worked in the shop for 30 years, said: "She just came into the shop and it was one of those experiences when you are looking at somebody thinking is it really her?
"I asked them where they were from and she said London, and I was thinking 'it is her'.
"After I served her, I said 'I'm not being rude but are you who I think you are?' and she said yes.
"It's good for Ballater. It's exactly a year ago today that the village was flooded so it's good.
"She's been down in the village and has had photographs taken with quite a lot of people."
Lucy Lafferty, owner of The MacNab outdoor shop, admitted it had taken her a moment to recognise the petite blonde.
"I didn't recognise her straight away, but I did get her autograph once I realised," she said.
"She's celebrating New Year up here somewhere, but I think she was hoping to keep a low profile – maybe that's why she bought a hat."
It is not clear where the star is staying whilst in the north-east, or if she will be attending any of the Hogmanay parties planned for the area.
A staff member at the Craigendarroch Resort would neither confirm nor deny if Kylie was staying there, adding: "We would not comment on any of our guests."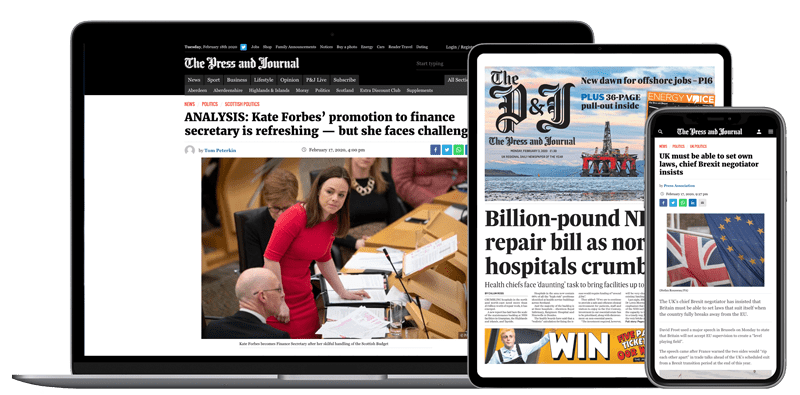 Help support quality local journalism … become a digital subscriber to The Press and Journal
For as little as £5.99 a month you can access all of our content, including Premium articles.
Subscribe