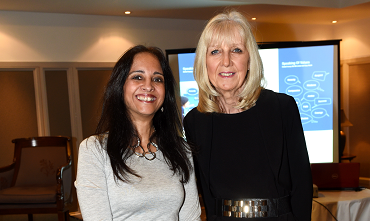 A new book featuring interviews with successful figures from all walks of Scottish life is raising cash for 14 difference causes across the UK.
The work, Speaking of Values, has been written by Emma Fossey, Neil McLennan and Gary Walsh, and aims to gain insights from 15 inspiring people, from all over the country, with a diverse variety of backgrounds and disciplines by finding out the values that have made them so successful.
Subjects include Audrey Mooney, the former governor of Craiginches prison in Aberdeen, and James Milne, managing director of the Balmoral Group.
In return for taking part in the book, every interviewee has been given the opportunity to nominate a charity that the proceeds of the publication will go towards supporting.
Mr McLennan said that the idea for a book focusing on the importance of values came after he worked on previous projects that highlighted the importance of skills.
He added the latest publication sought to inspire readers with the real-life stories of the featured professionals, and how their values contributed to improving society.
Mr McLennan said: "I've written two books in the last five years on skill development.
"And the model that we used when writing those books was going out and asking folk who were successes in their fields.
"We met with them, tried to understand them and figure out the raw skills that made them a success.
"But while skills are what help many individuals achieve success, there's a real crossover between skills and values.
"One of the figures we spoke to in our second book was Craig Wilson, the chef from Eat on the Green, and he spoke a lot about skills, but also values as well.
"So, on the back of that, we decided to work on our third book, this time focusing on values – we've looked at what the values are in organisations that have made them successful, and also the values in individuals that have made them successful.
"Our book can be used for individuals, groups, businesses, schools, we wanted to make it applicable to everyone.
"We've got 15 case studies that are featured in the book, but we wanted to give something back by asking each of them to nominate a charity they would be interested in supporting with the profits of the book.
"We've only just started, but we've got £1,000 already raised for the charities so far, which is absolutely amazing.
"There's a number of different charities we've chosen, but the Friends of Anchor charity was chosen twice.
"It's a charity that does great work all across the north-east, so we're very happy to support them through this innovative way of raising funds.
"All of the profits from the sales will go towards the 14 charities."
Speaking of Values is available for purchase now in both e-book and physical editions.
To find out more, visit www.speakingofvaluesblog.edublogs.org/get-your-copy/