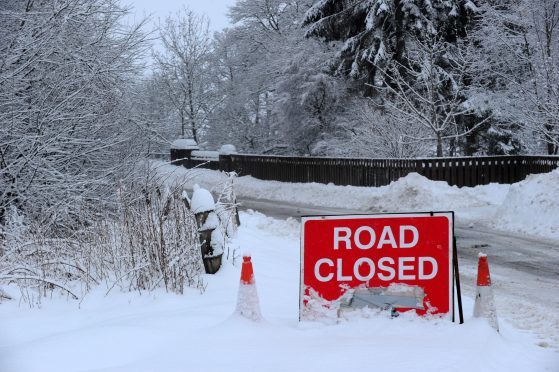 Aberdeenshire Council may upgrade the status of a busy road that is routinely closed in freezing weather to ensure it is treated more quickly.
The decision to review the level of service for the B974 Banchory to Fettercairn road, or Cairn O' Mount, was announced after a local MSP raised concerns on behalf of local residents.
The route is regularly shut during periods of heavy snowfall, but it is not one of the priority routes outlined by the authority for gritting.
Winter maintenance teams concentrate on what are regarded as the busiest A and B roads – about 30% of all routes – which are treated the night before ice or snow is forecast.
Lower priority roads – including the B974 – receive a lower level of service and are not treated until after 8am on a day of adverse weather that is expected to continue for at least 48 hours.
Scottish Conservative MSP for Aberdeenshire West, Alexander Burnett, contacted the council to raise concerns from residents that the Cairn O' Mount needed extra attention due to the large volume of traffic using the road on a daily basis.
In response, the council's head of roads Philip McKay has stated that the B974 is among several roads being reviewed and considered for a new "intermediate" status – between high and low priority.
Mr McKay said: "This particular section of road has already been highlighted as one which we will look at again. Options are being considered, however we hope to have completed the review before the end of January."
Scottish Conservative candidate for the Banchory and Mid Deeside ward on Aberdeenshire Council, Ann Ross, said: "The Cairn O Mount road is used extensively by locals and I think most drivers in the area would welcome any improvement to the level of service from the roads team to keep this route safe and open to traffic as often as possible.
"We know that the council is in a difficult financial position, so there is a limit to what can be done."