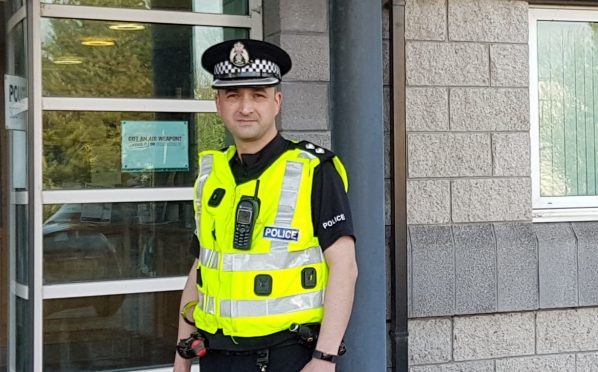 A north-east cop has vowed to quash booze-fuelled crime and further strengthen ties with communities big and small as he steps into a top role.
Garioch's new police inspector, Darren Bruce, will be bringing his 20 years of experience into play as he moves from a three-year position tackling crime in Tillydrone, Aberdeen.
Last night he vowed to take a hard line on criminals who travelled into the area to commit crimes, following a string of break-ins and vehicle thefts across rural Aberdeenshire in recent times.
Insp Bruce also vowed to crackdown on alcohol-related crimes, and build on the work done to strengthen the force's ties with communities in Garioch, a region which includes Inverurie, Westhill and Kemnay.
He is taking on the role from Inspector Jon Millar, who is moving to a new position in Mastrick.
Insp Bruce said Garioch benefited from being a "safe area", adding: "It is great to get the responsibility in so many towns.
For me the priorities are I want to reestablish connection back with the communities.
"I want police to be involved in our communities and like many other officers here, have roots in and a commitment to the north-east of Scotland.
"For me personally I want officers to go into community councils, I am sure we can work with them. What we also need back is help from them. We know the folk going to community councils are the folk that care about their communities.
"I will (also) be looking at tackling crimes associated with alcohol at weekends and at licensed premises. The anti-violence message is something we deal with every day.
"I think in Aberdeenshire here people feel vulnerable to travelling criminals, a lot of properties out here are isolated and on their own. But there are things you can do like lock your car at night and lock your door at night so you don't fall victim."
Insp Bruce took the reigns in Garioch on January 12.
He joined the force in 1997 and has worked in a number of roles throughout the north-east, including in the CID.
Commander for South Aberdeenshire, chief inspector Murray Main, said: "I am delighted to welcome Inspector Bruce to Garioch and I am very much looking forward to working with him.
"Darren has a wealth of experience in operational policing which I am certain will assist in improving upon the delivery of local police services in the area."