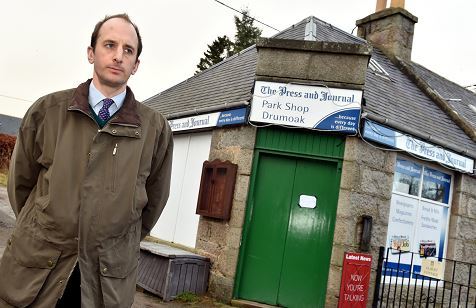 An Aberdeenshire man has vowed to keep a village's only shop running – after its abrupt closure.
Locals turned up to Drumoak's Park Shop on Tuesday morning to find it was completely shut.
Last night, it transpired the shopkeeper, Alan Black – who ran the shop on a lease from owners, the Park Estate – had decided to move on.
No warning was given to local shoppers, some of whom still owe money to the shop-keeper for newspaper orders.
A note attached to the door simply read: "The shop has closed for good – or until another retailer takes over".
However, Park Estate manager, William Foster, said last night Mr Black had chosen to step aside from the store for "personal reasons", adding the decision had been "sudden".
He vowed it was not the end of the shop and insisted he would endeavour to find another tenant to take the helm.
Mr Foster added: "Unfortunately it has closed. I really do hope someone does take it on. Unfortunately, it hasn't worked out for Alan.
"It was a part of our community and, speaking on behalf of Drumoak residents, it was very valued.
"I very much hope that we can find another operator. I met Alan on Monday, and unfortunately he can't carry on, but he is healthy and he is moving on.
"It caught me by surprise, it was very sudden. I think, of course, there is a place in the world for the Tescos, Spars, Lidls and Aldis – but this is a shop which was for the community.
"We want it to continue trading as a convenience store."
There are no other shops in the Deeside village, with the local pub and restaurant, the Irvine Arms, closing down in 2015.
The nearest convenience stores are in Culter and Banchory.
One Drumoak man responded with the words: "The shop has provided a tremendous service to the local community as it has always been open seven days a week.
"Apart from a big miss to the village, I am due the shopkeeper [money] for a month's papers."
Mr Black had been running the shop for approximately ten years.
He did not wish to comment last night.