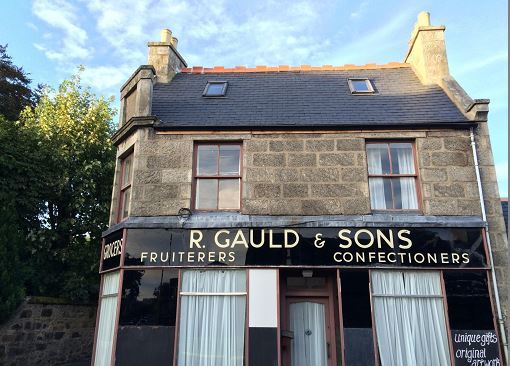 An empty Aberdeenshire sweetie shop could be turned into homes.
Plans have been lodged to Aberdeenshire Council to transform the former R Gauld and Sons grocery shop, on Huntly's Bogie Street, into three flats.
The store has been closed for decades, although the original signs remained in place after it found a new life as an artist's studio called The Empty Shop through the Deveron Project in 2011.
Now, developer Kenneth Marshall has unveiled the scheme to turn the Victorian-era building into homes, demolishing a storage structure located at the rear.
Last night locals said Huntly was in need of "regeneration", with a number of shops closing down in recent years.
R Gauld and Sons once made its trade selling confectionery, fruit and general groceries.
The building is located within the Huntly conservation area.
Under the plans, the site of the storage building to the rear of the shop would become parking spaces.
A statement from agents, Ian Duncan Architects, said: "The building aims to make a positive contribution to the character of the conservation area, providing a building which draws upon the surrounding built heritage while resisting pastiche."
Reverend Neil MacGregor's kirk on Bogie Street, Strathbogie Drumblade Church Of Scotland Huntly, neighbours the vacant store.
He said: "It is better this building is used rather than be allowed to deteriorate.
"People are short of places to stay in Huntly. There is a lot of people looking for housing in the town. And there are a lot of small, derelict buildings in Huntly.
"I think anything that helps to regenerate a town or an area should be welcomed, but it has to be done sensitively."
Project manager with the Deveron Project, Joss Allen, confirmed the property had not been used by the organisation for several years.
He added that if the development was for affordable housing, it would be a "good thing" for the town.
Mr Allen said: "It is a tricky thing because affordable housing is definitely an issue in Huntly, particularly for people looking to rent.
"Having said that, there isn't really any greengrocers now in Huntly with the arrival of two big supermarkets. They have had the impact of sucking a lot of the life out of the town centre. Quite a few shops have closed recently."