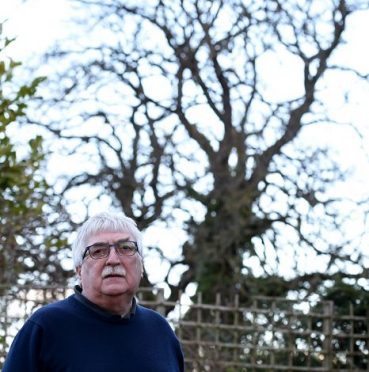 Two historic trees have been granted a preservation order, despite one of them being branded a "nuisance" by a leading expert.
Laurencekirk artist, David Johnston, persuaded councillors to protect the Bisset Lane elms which are believed to be more than 100 years old.
The High Street resident argued the pair were "the last of an ancient line that divided the feus (feudal tenures) of the High Street and Johnston Street".
Homeowner, Mark Wojciechowski, fought the application, claiming that he needed to trim one of the trees which was causing damage and stunting other growth in his garden.
But, despite bringing an arboricultural engineer to a meeting of Kincardine and Mearns area committee to back his case, elected members agreed to impose the order.
Welcoming the decision to protect the "local landmarks", Mr Johnston said last night: "The trees are the last of an ancient line that divided the feus of the High Street and Johnston Street, so they have some historic implication.
"They also have an aesthetic and ecological importance to the community.
"I think the council have made the right decision."
Mr Wojciechowski told the committee that, when he bought the house in May 2016, the garden was "completely overgrown".
He added: "I was very surprised when I got the letter about the tree protection order and so we enlisted an expert to give us some advice.
"Our tree is hard up against the wall of an adjoining storage building and is truly integrated in the wall – it is causing damage.
"The tree canopy dominates my garden and prevents growth of other species. I have no intention of removing the tree, but I do need to trim some lower limbs."
Arboriculture engineer and managing director of Aboretum Internationale, Paul Hanson, also attended the meeting and blasted the authority's decision.
He said: "The council have just preserved a nuisance – trees are only usually preserved if they are under threat.
"One person suggested that the tree should be protected just because the property had changed hands, but that in itself seems like a ludicrous reason.
"They really have overreacted to a complete non-event
"This is setting a bad precedent and has now left Mark with a liability – it is complete madness."