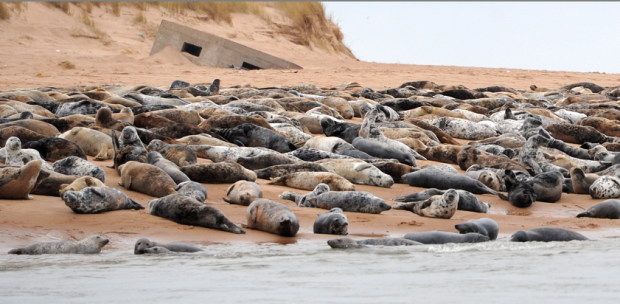 Harassing seals at an Aberdeenshire beauty spot could soon become a criminal offence.
And anybody who is proved to be disturbing the creatures could be punished with fines and imprisonment.
The site on the northern side of the mouth of the River Ythan, close to Newburgh, is home to a population of around 1,000 grey seals.
For years, conservationists have raised concerns over dog walkers and others intentionally or accidentally disturbing the colony.
The animals are highly sensitive, and interfering with their daily way of life can result in severe injuries or worse.
Following an extensive consultation in the area, the Scottish Government has now moved to designate the area as an official haul-out site, meaning the seals will be legally protected from May 4 – subject to parliamentary approval.
Under the new rules, anyone found to have disturbed the colony could face fines of up to £5,000 and up to six months behind bars.
The Ythan Seal watch, a volunteer organisation which was set up to protect the animals, claimed legal protection would be hugely beneficial to the colony.
Lee Watson, one of the group's organisers, said: "It's really good news, and will hopefully give the seals the peace they need and deserve within their own habitat.
"In effect, this would ultimately make harassment a criminal offence – something we've been fighting for, for a very long time.
"We've helped to put up fences and signs in the reserve to make sure people know they shouldn't go onto the north beach anywhere near the seals.
"And since they have been in place, it has really made a big difference in keeping people away from them.
"But we still see people approaching the seals all the time, so there's still work to be done.
"We started up the Ythan Seal Watch because we wanted to change people's attitudes towards the seals.
"Ultimately, this is still a nature reserve, and we don't want to punish people for visiting, but we need to make sure everyone behaves responsibly and in the seals' best interests."