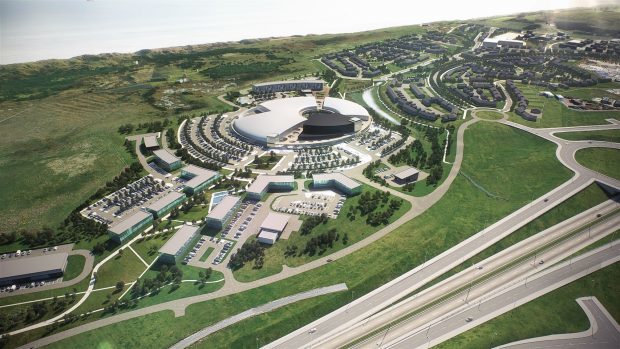 Council planners have backed a £150million housing and retail development – despite concerns it will hit traders in surrounding north-east towns.
Hundreds of homes are planned for Blackdog, along with a town centre which would include a six-screen cinema, hotel, shops and a regional food hall.
It is thought the development would bring about 2,100 people to the area and create around 1,500 jobs.
Earlier this year, an independent retail analysis by Hargest Planning Ltd suggested such a major development could hurt the local economy – with Aberdeen, Ellon and Inverurie hardest hit.
But Aberdeenshire Council's planning department has said they do not believe the proposals for Blackdog will "adversely impact" trade across the rest of the north-east.
Officers are now urging the proposals, put forward as two applications by Ashfield Land and Kirkwood Homes, are given planning permission in principle.
Director of infrastructure services Stephen Archer tells the Formartine area committee – who will consider the scheme on Tuesday – said: "An assessment of the retail proposed has taken place and it is considered that it will not adversely impact any other Aberdeenshire town or Aberdeen City.
"Information relating to the cinema and potential impact has been submitted and it is accepted that the leisure use in terms of impact on other cinema locations is low."
However, the report acknowledges the food hall would "likely result" in impacts on Ellon town centre and that the knock-on effect would be "relatively high" for Fraserburgh and Peterhead – and that it will be "necessary" to add a condition limiting the amount of convenience retail on offer there.
Mr Archer concluded the town centre application is a "high quality viable, deliverable and sustainable development" and is a "key component of the Energetica (Corridor) vision".
His team also said the impact of the developer's proposed 850-seater picture house would have on Aberdeen's four cinemas would be "low."
The council has recommended the committee backs the plans on delegated grants, despite both applications being contrary to the Aberdeenshire local development plan.
Last night Philip Mann, the chairman of Blackdog Residents Association, welcomed the recommendation and said: "Local people have been waiting a long time on these plans, which will provide a welcome boost to the village and help Blackdog grow to its full potential creating new jobs.
"The building of new homes, and especially the town centre, with retail and leisure facilities, is vital to the growth of the village."
The Ministry of Defence (MoD) had also raised concerns that the development is too close to its rifle range, and would create a "sensitive environment" not suited to its "live firing and demolitions" activities. The council's environmental health team also objected on the grounds of noise issues.
But Mr Archer said that bunding proposed as a barrier to noise and trespassing at the MoD rifle range by the developers would be an "appropriate solution".
He added the environmental health team are "satisfied that steps have been taken towards" resolving the noise issues at the site proposed for housing.
He said: "Overall, there are a number of technical issues outstanding on what is otherwise considered to be an acceptable proposal."
The housing application also includes provision for a school or community uses in the south-west of the site, and a woodlands.
Land will also be set aside on the development for an official gypsy-travellers site.
Last night, Steven McGarva director of Ashfield Land, said the development could accommodate 2,100 new residents, 1,500 full time jobs, a park and ride facility and 150 affordable homes.
He added: "Our plans for Blackdog will deliver substantial benefits for people living in Aberdeenshire and beyond.
"I would like to thank everyone who took part in the planning process. We've listened and responded by implementing a number of changes to the configuration of the development which I'm confident will offer a wide range of opportunities for local people."
The proposals will be discussed at the Formartine area committee at Ellon's Kirk Centre on Tuesday.