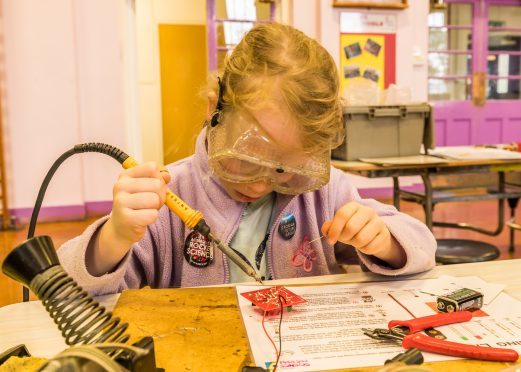 A Deeside science festival has finished with a packed talk on the legacy of the worst flooding to hit the region in a generation.
The Mad March Science Festival has been hailed a resounding success following a week of events aimed at promoting science and technology to both school children and adults.
Talks and activities covering a range of subjects from nature to conservation, computing, physics and obesity took place across venues in Tarland, Aboyne and Ballater.
One of the most popular events, held on Saturday, was a presentation on the "changing face of the Dee" at Ballater's Albert Hall – with James Hutton Institute scientists Stephen Addy and Annie McKee.
The experts have been studying the local rivers which burst their banks during Storm Frank from December 2015 to January 2016. The floods devastated 600 homes and 100 businesses across Aberdeenshire.
Founder of the Cromar Future Group, which organised the festival, Lesley Ellis, said the aim of the event was to make science and technology "accessible" to all.
Last night she said: "The flood meeting was packed out. This was the first chance that people actually had somebody independent explaining some of the issues. It was fascinating.
"The festival is all about trying to bridge the gap between science and the community, whether at school level or at adult level. Science is just so much part of our lives now and drives so much change.
"We partner with the outreach centre at Aberdeen University. Without their help and support we couldn't do this.
"We were very happy with the festival, particularly the children's side of it. I think in the future the festival will do well and be even better."