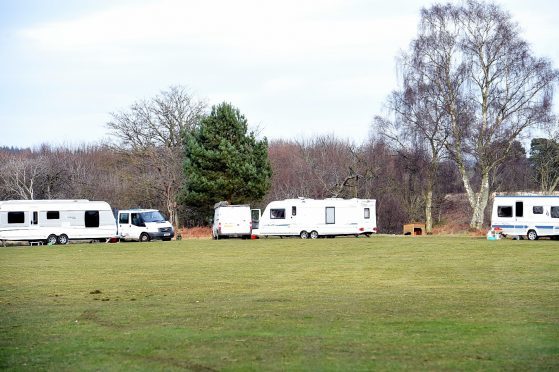 Two north-east communities have voiced concerns about the impact of a travelling encampment, who have arrived in the region.
A "dozen or so" families were parked outside the former Harlaw Road Day Centre in Inverurie and left a large amount of rubbish when they left on Wednesday.
And now they have moved on to Drumoak, with residents frustrated at the constant recurrence of the problem.
The Inverurie Men's Shed group also reported tool thefts and vandalism with one of their members, Alistair Smith, describing the debris.
He said: "There's a pile of hedge cuttings, dog bowls, gas containers and umpteen kids bikes. We found our spade lying round the side of the Day Centre and our hose reel holder has been put back, only it is minus the hose – so it's not all bad."
The travellers have now pitched up at Glebe Park in Drumoak, raising concerns among local residents, who still recall the mess which was left behind when a similar group arrived in the village last June.
The land is owned by the Church of Scotland, but leased to Aberdeenshire council as a recreational facility and includes a football pitch and picnic area.
A spokesman for Drumoak and Durris Community Council confirmed that a lock had been broken to gain access to the site and said: "We are extremely disappointed and frustrated this has happened again this year.
"This is at the time when the park is about to be used again by the community with the better weather and lighter nights arriving.
"Our community recently contacted the council to try and prevent this occurring again, but measures put in place were obviously not sufficient. "
"Last year, human waste was left at the site – the park is regularly used by cubs and scouts as well as other community groups."
A spokesman for the Church of Scotland added: "We have been in discussion with Aberdeenshire Council in recent months over the management of Glebe Park and their proposal to erect barriers to restrict the height of vehicles which are able to access the site.
"We will be speaking to the council at the earliest opportunity to review the current situation at the park and receive an update on their plans to install the barriers."
Councillor Graeme Clark said: "The land is owned by the Church of Scotland, so unfortunately there isn't much the council could do.
"The council can only supervise and keep working on the various sites we are trying to find in Aberdeenshire for the travellers – we are pretty helpless."