The final list of candidates for the upcoming Aberdeenshire Council election has been confirmed.
In total, 70 seats are up for grabs at Woodhill House across 19 districts in the run up to polling day on May 4.
A number of high profile councillors are bowing out, including former Provost and Conservative Jill Webster and Liberal Democrat group leader Karen Clark.
Both councillors currently represent Banchory.
Current Provost Hamish Vernal is also drawing his career in public service with the council to a close.
SNP candidate, Rickey Taylor, is one of the youngest council hopefuls on the ballot. The 20-year-old will contest the Troup ward.
He will be joined on the nationalist campaign trail by a former MSP, Dennis Robertson, who is standing in Stonehaven and Lower Deeside.
Aberdeenshire Council is currently governed by the SNP-Labour Partnership coalition who seized control from the Alliance coalition in 2015.
No political group has put forward enough candidates to gain overall control of the chamber at Woodhill House and another coalition deal is likely.
The candidate list is as follows:
Banff and District
John Cox, Ind; Glen Reynolds, SNP; Mike Roy, Con; Alison Simpson, LD;
Troup
Ross Cassie, SNP; Mark Findlater, Con; Sandy Leslie, LD; Hamish Partridge, Ind; Ray Stephen, Lab; Ricky Taylor, SNP;
Fraserburgh and District
Ann Bell, LD; Charles Buchan, SNP; David Donn, SNP; Andy Kille, Con; Doreen Mair, Ind; Charlie Reid, Ind; Ian Tait, Ind; Brian Topping, SNP; Kenneth Watt, Lab; Michael Watt, Ind;
Central Buchan
Marion Buchan, Con; Jim Ingram, SNP; Lenny Pirie, SNP; Anne Simpson, LD; Norman Smith, Ind;
Peterhead North and Rattray
Anne Allan, SNP; Dianne Beagrie, Con; Alan Buchan, Ind; Alistair Massey, LD; Fiona McRae, SNP; Iain Sutherland, Ind;
Peterhead South and Cruden
Stephen Calder, Ind; Sam Coull, Ind; Alan Fakley, Con; Stuart Pratt, SNP; Colin Simpson, LD; Stephen Smith, SNP;
Turriff and District
Sandy Duncan, Ind; Alastair Forsyth, SNP; Mike Rawlins, Ind; Anne Robertson, LD; Iain Taylor, Con;
Mid Formartine
Karen Adam, SNP; Jim Gifford, Con; Jeff Goodhall, Ind; Andrew Hassan, LD; Paul Johnston, Ind; Kirsten Muat, Lab; Cryle[CORR] Shand, SNP;
Ellon and District
Isobel Davidson, LD; Anouk Kahanov-Kloppert, SNP; John Morgan, Lab; Gillian Owen, Con; Richard Thomson, SNP;
West Garioch
Victoria Harper, SNP; Sebastian Leslie, Con; Elaine Mitchell, SNP; Richard Openshaw, Green; Hazel Smith, LD; Peter Young, Lab;
Inverurie and District
Neil Baillie, SNP; Colin Clark, Con; Marion Ewenson, LD; Sarah Flavell, Lab; Bryan Stuart, SNP; Judy Whyte, Ind;
East Garioch
Martin Ford, Green; Fergus Hood, LD; Dominic Lonchay, Con; Conor McKay, SNP; Glen Reid, SNP; Ann Thorpe, Lab;
Westhill and District
David Aitchison, SNP; Heather Coull, SNP; Lindsey Kirkhill, Lab; Ron McKail, Con; Alistair McKelvie, Con; Derek Scott, Libertarian; Iris Walker, LD;
Huntly, Strathbogie and Howe of Alford
Bryan Begg, Lab; Moira Ingleby, Con; John Latham, LD; Kate Monahan, SNP; Gwyneth Petrie, SNP; Robbie Withey[CORR], Con;
Aboyne, Upper Deeside and Donside
Peter Argyle, LD; Geva Blackett, SNP; Paul Gibb, Con; Claire Millar, Lab; Anne Reid, Ind;
Banchory and Mid Deeside
Rosemary Bruce, LD; Eileen Durno, SNP; Iain Gillies, Lab; Ann Ross, Con;
North Kincardine
William Ball, Green; Alastair Bews, SNP; Alison Evison, Lab; David Lansdell, Social Democratic; Ian Mollison, LD; Colin Pike, Con; Kes Smith, SNP;
Stonehaven and Lower Deeside
Wendy Agnew, Con; Philip Bishop, Ind; Raymond Christie, Lab; Sarah Dickinson, LD; Dennis Robertson, SNP; Rachel Shanks, Green; Sandy Wallace, Con;
Mearns
Karen Allan, Green; George Carr, Con; Patrick Coffield, Lab; Bill Howatson, LD; Jeff Hutchison, Con; Dave Stewart, Ind; Leigh Wilson, SNP; Carole Wise, SNP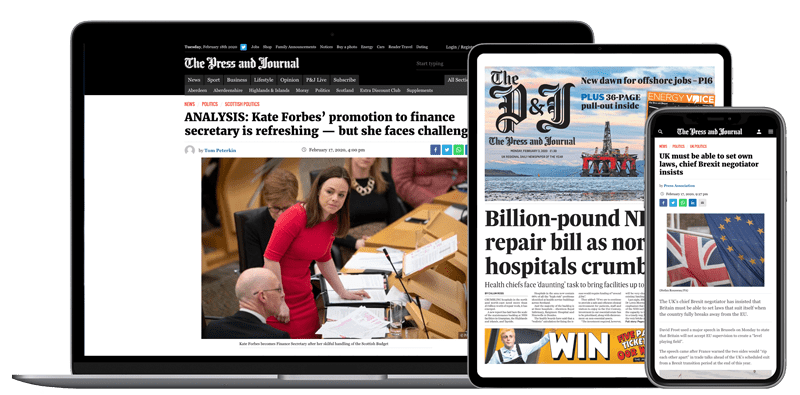 Help support quality local journalism … become a digital subscriber to The Press and Journal
For as little as £5.99 a month you can access all of our content, including Premium articles.
Subscribe