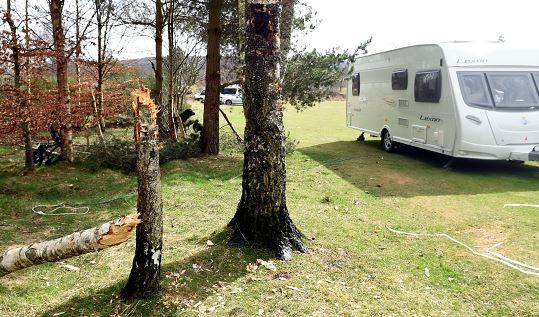 Tom Taylor was one of the north-east's true horticultural stalwarts; a man who graced the Beechgrove Garden and many other settings.
And that explains why residents of an Aberdeenshire village have been left outraged after "legacy" trees which he planted were vandalised next to a travellers camp.
In the last fortnight, more than 10 caravans have been ensconced at the Glebe Park in Drumoak. And although Aberdeenshire Council has confirmed eviction proceedings have started, the situation has angered many local people.
One resident contacted the Press and Journal to voice concerns about the latest vandalism and said: "They were planted 30 years ago by a resident of Drumoak and active member of the community, Tom Taylor.
"Tom died a few months ago and, even in his last weeks, we were helping him plant trees – these trees are his legacy.
"That anyone is destroying them is totally disrespectful to the local community and painful to those of us who were Tom's friends."
The chair of Aberdeenshire Council's gypsy-traveller sub-committee, Allan Hendry, confirmed that members were monitoring the situation.
But he said in response: "No code of conduct had been breached. There is nowhere else for them to go."
Mr Taylor was featured on the Beechgrove Garden in 2015 when the TV team visited his garden of architectural conifers.
His widow, Marjory, yesterday commented on the "awful" news some trees had been cut down and spoke of her husband's community spirit.
She said: "He loved to put trees back into the landscape – usually to replace ones that might have fallen down.
"He planted lots of trees all over Drumoak, in the Glebe, on the riverbank, anywhere that he thought needed a wee gap filled – he would plant a tree."
Alexander Burnett, Scottish Conservative MSP for Aberdeenshire West has been contacted by the villagers.
He stated: "Residents are running out of patience with Aberdeenshire Council on this issue. There is a growing sense of frustration that nothing appears to be happening."
However, one of the female travellers at the site denied any wrongdoing.
She said: "The trees were like that when we were here last year – I don't know anything about them."
Police stated yesterday they were not aware of any criminality taking place or being reported in Glebe Park.