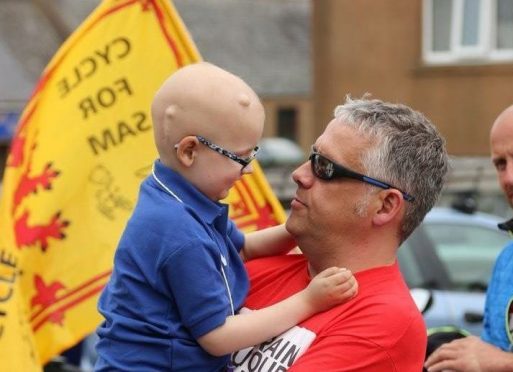 The parents of a five-year-old boy who died last year have raised more than £100,000 for cancer charities.
And now, they are aiming to further boost the funding drive as they approach the anniversary of their son's death.
Sam Dorrance was only four when he was diagnosed with cancer and succumbed last year after battling the aggressive brain tumour for 11 months.
His parents, Tanya and Graeme, started fundraising when he first became ill and have so far managed to raise £70,000 towards the Super Sam Fund which is part of the Brain Tumour charity and a further £30,000 for other childhood organisations.
The couple have now arranged a Songs for Sam music event on Friday, May 12 in Stonehaven.
Mr Dorrance has booked Country and Western band The Malpaso Gang and is planning to join them on stage when they play some of Sam's favourite songs.
He said: "I'm going on the drums for a bit with the band and we will play some of the songs Sam loved from the movie 'Cars'. The band's current drummer has had a brain tumour, so they were keen to do something for the charity and Sam saw them play before he died, so it will be quite poignant."
In addition to the music event, Sam's uncle, Colin Dorrance, is undertaking the Cycle for Sam event he created last year and will be in the 20-strong team tackling the 450-mile route to coincide with the day Sam died on July 14.
He added: "We had 15 people taking part last year and it was a great success. We decided to bring it back this year and we arrive in Stonehaven on the day that Sam passed away."
The challenge has 20 cyclists signed up this year and will raise money for Super Sam's Fund for the Brain Tumour Charity which ensures that 100% of the donations go towards targeted childhood cancer research projects.
Tickets cost £15 for Songs for Sam which is being held at the Station Hotel, Stonehaven – email Graeme.dorrance@me.com
For information on the cycle challenge visit: www.justgiving.com/fundraising/Cycle-for-Sam