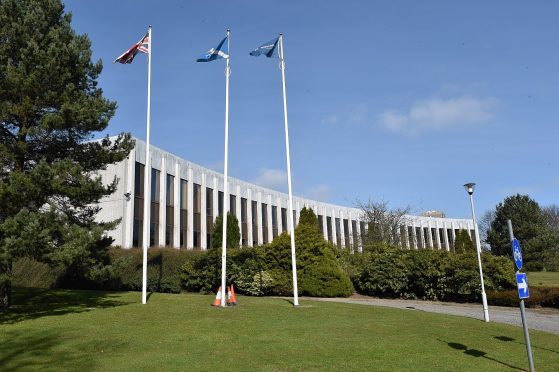 Aberdeenshire Council has historically prided itself on being consensual, collegiate and removed from the party politics which mar its neighbouring authorities.
The last three administrations to govern from Woodhill House have all been coalitions and since 2007, each of the major political groups has played a role in shaping the direction of the region.
But in the last two years the authority has become increasingly divided with bitter partisan rows about both local and national issues.
In the summer of 2015 the ruling Alliance coalition of Conservatives, Liberal Democrats and Aligned Independents was ousted in an SNP and Labour-led coup.
The new Partnership administration has now overseen the authority for two years and shepherded the region through a series of multimillion-pound budget cuts.
The Partnership has set the wheels in motion on an ambitious move from the council's base at Woodhill House in Aberdeen to a new headquarters at Inverurie Loco Works FC's Harlaw Park.
Proposals to create a separate charitable trust to manage sport and leisure in region have also been unveiled. The decision on whether or not to form a trust, a move which could save the council £1million every year, will be one of the first major votes before the new council.
But the Partnership's tenure was hijacked by events outside the chamber last year when then council co-leader Martin Kitts-Hayes became embroiled in the Legogate scandal.
In June Mr Kitts-Hayes led a delegation to the North Sea Commission in Denmark but returned home early after he discovered he was staying in a cabin at Legoland.
The aborted trip cost the taxpayer more than £3,000 and in August, after a scathing internal report into the fiasco, Mr Kitts-Hayes resigned. He was replaced by Labour councillor Alison Evison who has overseen the council since then with SNP co-leader Richard Thomson.
Since the turn of the year Aberdeenshire Council business has been dominated by national budgetary issues – firstly the SNP government's bid to levy council tax in Aberdeenshire and spend it on education across the country, and then in the controversial business rates rises.
The next three weeks will be dominated by debates about which group has the best interest of Aberdeenshire businesses at heart and who has the most manageable plan for council tax increases between now and 2022.
Education and housing both feature heavily in each of the groups manifestos as well.
But despite the political posturing, no party has fielded enough candidates to win an overall majority in the chamber at Woodhill House and a fresh coalition will have to be formed.
After the dust has settled councillors in the north-east will have to once again put party politics aside in favour of consensus if they are to lead the region forwards.
Woodhill House shake-up
Regardless of whether Aberdeenshire residents vote to re-elect their representatives or replace them with new councillors, there will definitely be a major shake-up at Woodhill House.
Almost a third of the current councillors have announced their intention to stand down.
A total of 20 ward members are bringing their careers in public service to a close including many senior and long-standing figures.
Aberdeenshire provost and Inverurie and District SNP councillor Hamish Vernal is standing down both as the authority's civic leader and as a local member.
Mr Vernal, who was a head teacher and later the education director for the council, "retired" in 2005 but could not stay away from public service and was elected as councillor for Inverurie in 2012. For the past two years he has served as provost.
He said: "The provost is a funny job. You're a local councillor where you do your best for Inverurie, then there's the job at Woodhill House when there is a political element, and then finally there is my role as provost with no politics at all.
"I would say to new councillors, embrace the job. It's been a privilege and pleasure to serve first as a councillor then as provost."
The seats in both Banchory and Mid Deeside and the West Garioch wards will both be represented by an entirely new list of councillors, with no current members seeking reelection.
The final list of candidates was announced in March and is available on the Aberdeenshire Council website.