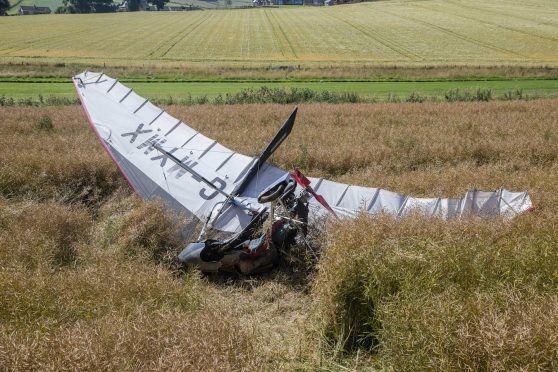 Mystery still surrounds what caused a microlight aircraft to lose power and plunge into an Aberdeenshire field.
The crash, which left the 59-year-old pilot seriously injured, happened at Insch Airfield last August.
The pilot, who was taken to Aberdeen Royal Infirmary by ambulance, has since made a full recovery.
However, the Pegasus Quantum 15, G-MYMX aircraft sustained "significant airframe damage" in the crash.
Yesterday, a newly-published Air Accident Investigation Branch (AAIB) bulletin revealed that the cause of the engine power loss had not been identified
The aircraft had taken off from the Grampian Microlight and Flying Club's private airstrip at 11.10am on August 15, en route to Boyndie Airfield at Banff, when disaster struck
Within seconds it had crashed into a nearby field of oilseed rape.
Onlookers said the tiny craft appeared to lose power before it plummeted.
Emergency services, including the fire service, attended the scene to assist the casualty and make the aircraft safe.
The AAIB bulletin states: "Shortly after takeoff, at approximately 250ft, the pilot experienced a total loss of engine power.
"The terrain ahead of the aircraft was unsuitable for a landing so the pilot initiated a left turn to land in an adjacent field.
"During the turn the wing stalled and the aircraft began to sideslip.
"The pilot was unable to correct this before the aircraft struck the ground.
"The pilot attributed the sideslip to a combination of low airspeed, the steepness of the turn and a tailwind component.
"The cause of the engine power loss has not been identified."
In 2015, an 81-year-old pilot also had a lucky escape when the light aircraft he was flying crashed into a fence and landed on its roof at the same airfield.
The pilot, who had 270 hours of flying experience, had flown solo from Inverness Airport in a Druine D62A Condor aircraft.
But things started to go badly wrong during his descent.
The aircraft stalled and dropped rapidly to the left, leaving insufficient height to recover.
It then struck a fence and overturned.
Airfield personnel rushed to the scene and helped the pilot to free himself from the wreckage.