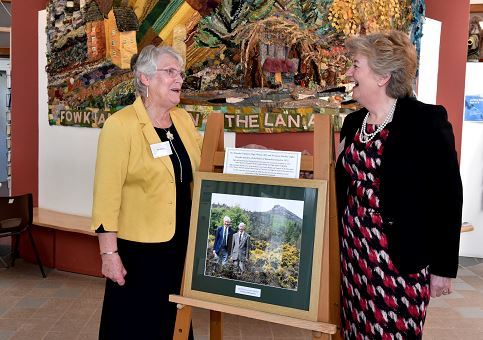 An Aberdeenshire tourist facility unveiled its new look yesterday and marked the occasion with a tribute event for two founding members.
The Bennachie Visitor Centre opened for the season with a brand new interior thanks to a £10,000 National Lottery grant
Operated by the Bennachie Centre Trust, the facility now offers a cafe area, interactive screens, gallery space and more multi-purpose space for groups and meetings.
To celebrate the opening, trustee John Nicol paid tribute to two founder members, James Mackay and Algy Watson, and unveiled a photograph of the pair that will be displayed in the centre.
Mr Nicol and the other trustees felt the time was right to acknowledge the roles the two men had in bringing the centre to life.
He said: "James and Algy were trustees for many years; acting as chair and treasurer and without their commitment and hard work the centre would not now be here.
"Sadly they are no longer with us, James passed away last year and Algy several years ago.
"It was their love of Bennachie that led to many of the improvements that we see in the area today."
The men met in 1957 when they both started work at Inverurie Academy as geography and biology teachers and they jointly started the outdoor club within the school.
They were also the founder members of the Baillies of Bennachie and helped carry out many botanical surveys and wrote a Bennachie guide book.
Mr Nicol praised the attention to detail of the two teachers and commented: "Fortunately their hard work was recognised and they both were awarded MBEs in 2001."
Mr MacKay's family were on hand to see the photo unveiled and his daughter Fiona MacKay added: "Dad loved Bennachie, he was immediately attracted to it the first time he saw it – he wanted to share it with everybody. He loved being out on the hills and loved the outdoors."