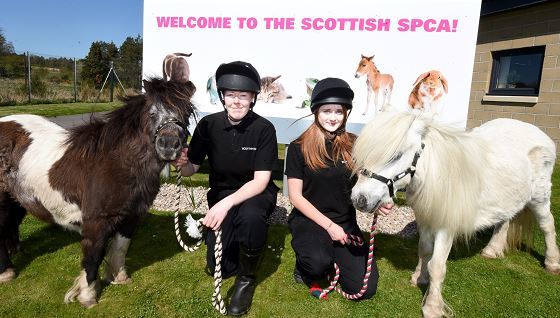 A north-east animal rescue centre has appealed for a horse lover to take on two middle-aged Shetland ponies.
The Scottish SPCA is currently caring for the mares Mitzi and Moon at their rescue and rehoming centre in Drumoak.
The two ponies have been living together for the past 15 years, but the charity is happy for them to be separated if suitable "retirement homes" come up.
Both have both suffered from laminitis in the past, and although the team has the infection under control they are keen for potential owners to have experience on of the condition.
Stable assistant Jenna McCall said that the although the pair had been together for 15 years, they don't seem to have bonded, she added: "They often turn their backs on each other in the stable – so I don't think they would particularly miss each other. They are both really easy to handle and love getting attention. I think they need a nice retirement home to go to."
The Drumoak centre manager Graeme Innes said: "Mitzi and Moon came into our care through no fault of their own.
"Unfortunately their previous owner could no longer look after them and as a result they can suffer from laminitis so we would be looking for a home that has experience of this condition.
"These two older ladies have hearts of gold, and are good to catch, groom and lead.
"They can be homed together, or separately as a companion pony to another laminitis sufferer."
Laminitis is an inflammatory condition of the tissues in the horses hoof and can be brought on be excessive grass grazing.
Anyone who can offer Mitzi and Moon a new home should call 03000 999999.