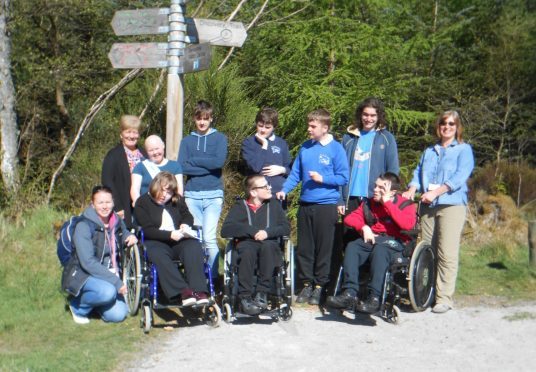 One of Aberdeenshire's most iconic landmarks has become more accessible after its pathways received a £28,000 upgrade.
New all-abilities trails – at Bennachie and Foggieton Woods – have been opened to make the woodlands more welcoming to all.
Pupils from St Andrew's school in Inverurie recently joined Forest Enterprise Scotland staff on the Discovery Trail on Bennachie enjoying a "fantastic" day out.
Gillian Duthie, the teacher with the group, said:
"It was the most perfect day. We walked the discovery trail pushing three wheelchairs and it was great to stop halfway at the pond for a rest.
"The trail was perfect and no problems with wheelchairs. Everyone had a fantastic day out and it's just unfortunate that we couldn't stay longer!"
The 1km route, which is considered gentle, now has resting places added along its length, making it more accessible to pushchairs or wheelchair users.
The Warbler Trail in Foggieton Woods just to the West of Aberdeen has also been transformed into an all-abilities trail after a £10,000 upgrade.
The opportunity was taken to resurface, and reduce the gradient on part of the Colony trail at Bennachie improving its accessibility at the same time.
Neil Taylor from Forest Enterprise Scotland, said: "Some less able people are put off from visiting woodlands because of the sometimes challenging conditions of footpaths and trails.
"We've invested in these trails to make them significantly more attractive and appealing so that people of any level of ability in Aberdeenshire can experience and enjoy a great day out in the forest."
The Bennachie Visitor Centre opened for the season last month with a new interior thanks to a £10,000 National Lottery grant.
Operated by the Bennachie Centre Trust, the facility now offers a cafe area, interactive screens, gallery space and multipurpose space for groups and meetings.