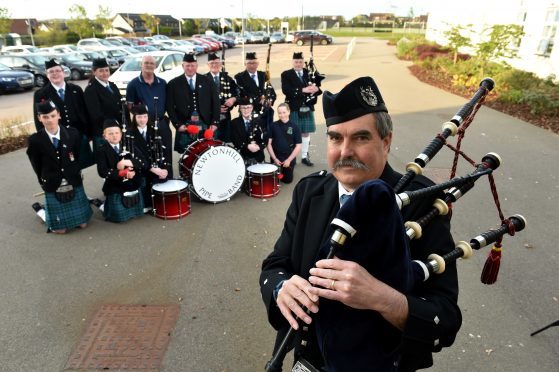 A peeved pipe band has hit back at complaints about excessive noise in a north-east community.
Newtonhill Pipe Band practises in nearby Portlethen Academy twice a week, because there is no suitable location in the village. However, the hall is not large enough for the pipers to carry out work on their marching formations and the ensemble has permission to perform outside the school.
On Tuesday, the group received complaints on social media after it organised a rehearsal outside from 8.15 to 9pm.
Concerns were raised on a community page about the noise preventing young children from getting to sleep on a school night.
One said: "I respect you stopped at 9pm, but children don't just fall asleep in an instant afterwards, it's at least half an hour and I defy you to say it's acceptable for a two-year-old or a five-year-old or even my eldest who's just turned eight to be kept up to that time especially on a school night."
However, the band argued last night this was the only occasion it had practised outside this year.
Pipe Major Domhnull McLennan said: "As a parent of three children, I know that sometimes the stress of trying to get the young ones to bed is unbearable.
"But I'm shocked by the tone of the posts on the internet, and the response to one practice in a very long time when we played outside.
"It may be that every local pipe band has to practice far away from where their members are to satisfy the minority."
The band teach youngsters from the age of seven on pipes and drums and have 50 members predominantly from Newtonhill and Portlethen.
In 2009, the group was banned from practising outside the village primary school by Aberdeenshire Council.
Following a public outcry, the local authority was forced to make a U-turn and the group was allowed to continue.