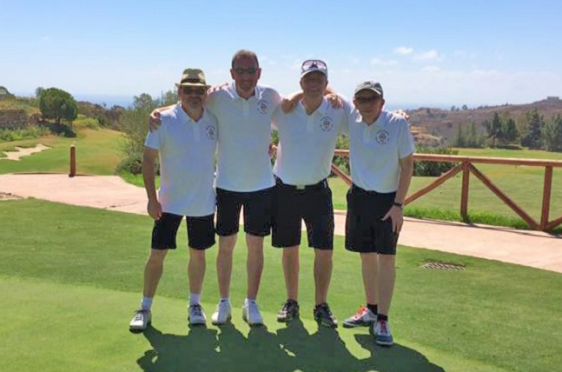 A group of friends are "hopeful" they can embark on a fairway to heaven and use their golfing skills to raise money for charity.
Graeme Thomson, 51, Alan Anderson, 48, Andy Barry, 50 and Neil Conway, 43, are taking part in the Longest Day Golf Challenge tomorrow, and have chosen Oldmeldrum Golf Course as their preferred venue.
The team of four will take on 72 holes in a single day in a bid to amass cash for Macmillan Cancer Support.
It equates to four rounds of golf each and takes place on the longest day of the year.
In 2016, more than 3,000 teams across the UK signed up and raised £1.5million for people affected by cancer.
All the participants also have the chance to be in the 'Fabulous Finale' which will be played later this year at The Boavista Golf Resort in Portugal.
Mr Thomson, who owns a credit management company in Aberdeen, said the group – who have chosen The Hopeman Hopefuls as their team name – met when they became neighbours in Ellon more than 10 years ago.
While Mr Conway has moved since then, they remain good friends and regularly play the sport, both locally and abroad.
Every year, they go on a week's golfing holiday and Spain, Portugal and Majorca are among the destinations they have visited in the past.
Mr Thomson added: "Our handicaps range from 12 to 20. We've had our moments of brilliance and also of disaster, but anyone who plays the game knows, that's just golf for you.
"It's one of the most frustrating games you can play, but when that moment of brilliance happens, it's a great feeling. It's that feeling that keeps us playing."
He insisted they haven't been putting any extra practice in for the big challenge, but they are ready for it.
As he said: "We know what we know about the game and are ready for the challenge.
"It's just about getting out there and doing it now, but having fun with it as well."
He added they were looking forward to hitting the course to raise money for a charity close to their hearts.
For Mr Thomson, he is dedicating his efforts to his cousin, Jemma McRae.
The owner of Academy Street Dance Studio in Aberdeen was diagnosed with cancer two years ago and has been fighting it ever since.
She was one of the brave woman to take part in the annual Courage on the Catwalk last year.
Mr Thomson said: "She's a true inspiration and a very, very brave woman. She has been through a lot and continues to fight on. She's loved and admired very much.
"We all know someone who was or is affected by cancer and Macmillan nurses do an amazing job helping those who need it, to get through the worst days."
The group has raised £1,345.14 so far, and have set themselves a target of £2,000.
If you would like to support them, visit www.justgiving.com/fundraising/hopeman-hopefulls1