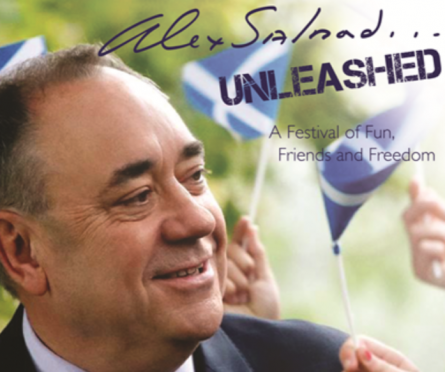 Alex Salmond is to be 'unleashed' at the Edinburgh Fringe after announcing a two-week show at the festival.
The former First Minister was ousted from his day job as MP for Gordon at last month's General Election and has been tipped to segue into a more media-focused role.
Promoters for his newest venture, Alex Salmond Unleashed, say it will feature invited guests, music and comedy, as well as "a bit of light-hearted banter and a few behind the scenes revelations about his time in power".
Mr Salmond said he was "looking forward enormously" to sharing his thoughts and stories with audiences.
"Our objective is that every performance will be different with different topics and different guests," he said.
"The only consistent feature is that it will always be light-hearted. The audience will get full opportunity in every show to play their full part."
The performances will take the format of a chat show and each will involve a different mystery celebrity guest from the world of politics, showbiz and sport.
Mr Salmond added: "Among the invited guests there are a number of surprises. I suspect people might be taken aback at range of friends who are invited along.
"With so much change taking place in politics there is no shortage of opportunity or indeed targets for a wry look at current events."
The 62-year-old also pledged to dish the dirt on his political rivals and although US President Donald Trump is unlikely to appear in person, Mr Salmond did say 'The Donald' "may well feature".
Meanwhile, rival parties have reacted with scorn to the former SNP leader's festival plans.
A Scottish Labour spokesman claimed Mr Salmond wanted a taste of Jeremy Corbyn's Glastonbury fame.
He said: "If Alex Salmond really wants to have a Fringe crowd in tears of laughter, he should just stand up and read out his independence White Paper.
"His ego is clearly dented following his General Election defeat, and he's no doubt jealous that festival crowds across the UK are chanting Jeremy Corbyn's name, so wants to see his own name in lights at a festival."
Scottish Conservative deputy leader Jackson Carlaw also attacked the show as rampant egotism.
He said: "Only Alex Salmond would have the ego to think he could be an attractive fixture at the world's biggest comedy festival.
"The crowds will almost certainly be laughing at him rather than with him.
"And it seems he's recruiting other ousted SNP MPs to help out.
"Next we'll have Angus Robertson selling the half-time macaroon bars, and John Nicolson checking ticket stubs."
The show will be produced by theatre veteran Denise Silvey and fellow General Election casualty Tasmina Ahmed-Sheik.
The hour-long performances will run for two weeks at the city's Assembly Rooms from August 13.